Sector: ICT Total Cost: $500,000 Status: Completed
The four participating countries – Bangladesh, Bhutan, India and Nepal – of the South Asia Subregional Economic Cooperation program agreed on the project design of the SASEC Information Highway to promote better ICT connectivity and closer...

Sector: Transport Management Total Cost: $960,000 Status: Completed
This project enhanced interregional integration by increasing trade and travel among BIMSTEC South Asian countries – Bangladesh, Bhutan, India, Nepal, and Sri Lanka. It helped develop policy to address barriers in effective and efficient trade...

Sector: Energy Total Cost: $750,000 Status: Completed
This technical assistance prepared a proposal for a South Asia Association for Regional Cooperation (SAARC) regional power exchange to facilitate regional development of the power market and enhance power trading among SAARC member countries. It...

Sector: Multisector Total Cost: $4.72 Million Status: Ongoing
This project will enhance regional economic cooperation in South Asia through agreed regional cooperation projects and activities. It will assist participating countries to prioritize and prepare regional projects, create venues for regional exchange...

Sector: Public Sector Management Total Cost: $700,000 Status: Completed
This technical assistance strengthened knowledge-based collaboration among South Asian policymakers, researchers, and private sector investors in four research areas significant to regional cooperation. The Research and Information System for...
Maldives became a full member of SASEC in May 2014, together with Sri Lanka, following several years as an active observer. Bangladesh, Bhutan, India, and Nepal formed the project-based partnership in 2001.
The Seventh National Development Plan: Maldives - Creating New Opportunities envisions a sustainable development path anchored on economic growth, social equity, environmental protection, and good governance. Its Regional Development policy aims to achieve a better balance of social, economic and physical development between atolls by focusing on promoting key areas in each region, and investing on the necessary social and physical infrastructure. Combining strong regional economic linkages with a developed transport network will be key to boosting the region's growth. The country follows the Maldives Economic Vision 2013-2018 in its goal of building a sustainable and vibrant economy.
SASEC Technical Assistance in Maldives
ADB-financed technical assistance has supported SASEC activities in Maldives to help advance the country's engagement in regional cooperation activities, including under the South Asian Association for Regional Cooperation (SAARC) and the Bay of Bengal Initiative for Multi-Sectoral Technical and Economic Cooperation (BIMSTEC) frameworks. Maldives has actively participated in SASEC from 2012 to 2014 as an observer, and then as a full member. ADB-supported technical assistance (worth $200,000) is supporting Maldives in implementing its national single window environment for international trade to improve ease of doing business, in line with SASEC operational priorities for trade facilitation.
Trade Snapshot
Direction of Intra-regional Trade
The value of Maldives' merchandise exports and imports trade with other SASEC member countries, using International Monetary Fund data from 2017, is captured in the tables below.
Maldives' 5rd largest import source worldwide is Sri Lanka, with imported goods valued at $160 million. Its 41st largest import source is Bangladesh, with imported goods valued at $3 million.
Maldives' 2nd top export destination worldwide is Sri Lanka, with exports valued at $19 million. Its 3rd largest export market is Bangladesh, valued at $14 million.
Maldives Trade in SASEC Subregion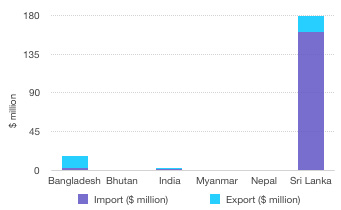 Source: IMF Direction of Trade Statistics, as of May 2018
Maldives Trade - Import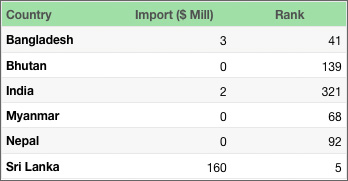 Source: IMF Direction of Trade Statistics, as of May 2018
Maldives Trade - Export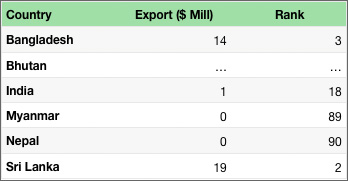 Source: IMF Direction of Trade Statistics, as of May 2018
Ease of Doing Business
In 2018, ease of doing business in Maldives improved owing to the following reforms:
Getting Electricity: Maldives made getting electricity faster by upgrading existing electricity grid and increasing the network capacity to accommodate new connections; and
Paying Taxes: Maldives made paying taxes easier by introducing an online system for filing and paying taxes.

Source: Doing Business, accessed December 2018

Note: The World Bank/International Finance Corporation's annual flagship Doing Business Report measures the ease of doing business by ranking economies from 1 to 190, based on quantitative indicator sets that can be compared across economies and over time, with first place being the best and indicating a regulatory environment is conducive to business operation. Of immediate relevance to SASEC aims and goals are indicator sets on Starting a Business, and Trading across Borders.
Logistics Performance Index (LPI)
Maldives' overall rank rose 14 place to 86 out of 168 economies in 2018, from a ranking of 104 in 2016. Its 2018 overall LPI score is 2.67, up by more than a point from its 2016 score of 2.51. Its 2018 score owes itself to improvements in customs, infrastructure, international shipments, tracking and tracing, and timeliness, offsetting a dip in its logistics competence score and placing the country on top of the South Asia regional average of 2.51.
Maldives LPI 2018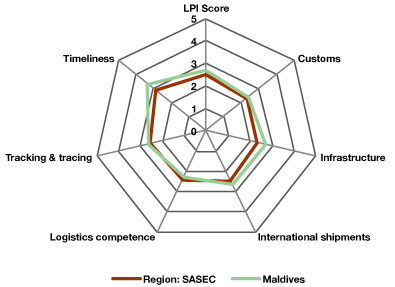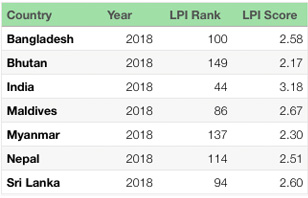 Source: World Bank LPI (accessed December 2018)

Note: The LPI overall score reflects perceptions of a country's logistics based on six core dimensions: (i) efficiency of customs clearance process, (ii) quality of trade- and transport-related infrastructure, (iii) ease of arranging competitively priced shipments, (iv) quality of logistics services, (v) ability to track and trace consignments, and (vi) frequency with which shipments reach the consignee within the scheduled time. The scores for the six areas are averaged across all respondents and aggregated to a single score using principal components analysis. A higher score indicates better performance.
Economic Outlook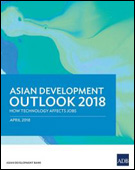 Asian Development Outlook
Strong growth in tourism and an expansion in construction pushed growth higher in Maldives in 2017. Inflation stayed low with help from subsidies. The current account deficit moderated but remained high. The outlook is for modest growth, low inflation, and a narrower current account deficit. To foster economic inclusion and lower large income disparities, the government is working to boost the development of micro-, small-, and medium-sized enterprises on outer atolls.
Source: Asian Development Outlook 2018 (ADB)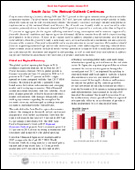 South Asia Regional Update
Maldives' economy grew by 3.9% in 2016 and further improved in 2017 following the recovery in tourism and strength in the construction sector. Led by housing and construction, private sector credit has grown rapidly. Headline inflation declined in 2016 and is projected to remain low.
Source: South Asia Regional Update, January 2018 (IMF)