Maldives became a full member of SASEC in May 2014, together with Sri Lanka, following several years as an active Observer. Bangladesh, Bhutan, India, and Nepal formed the project-based partnership in 2001.
The Seventh National Development Plan: Maldives - Creating New Opportunities envisions a sustainable development path anchored on economic growth, social equity, environmental protection, and good governance. Its Regional Development policy aims to achieve a better balance of social, economic and physical development between atolls by focusing on promoting key areas in each region, and investing on the necessary social and physical infrastructure. Combining strong regional economic linkages with a developed transport network will be key to boosting the region's growth. The country follows the Maldives Economic Vision 2013-2018 in its goal of building a sustainable and vibrant economy.
SASEC Technical Assistance in Maldives
ADB-financed technical assistance has supported SASEC activities in Maldives since 2002, to help advance the country's engagement in regional cooperation activities, including under the South Asian Association for Regional Cooperation (SAARC) framework. Since 2012, Maldives has actively participated—first as Observer, and then as full member—in five SASEC regional technical assistance projects worth more than $11 million that have supported regional cooperation forums, knowledge-sharing initiatives, and capacity building.
Trade Snapshot
Direction of Intra-regional Trade
The value of Maldives' merchandise exports and imports trade with other SASEC member countries, using International Monetary Fund data from 2015, is captured in the tables below.
Maldives' 3rd largest import source worldwide is India, with imported goods valued at nearly $227 million. Its 6th largest import source is Sri Lanka, with imported goods valued at nearly $133 million.
Maldives' 2nd top export destination worldwide is Sri Lanka, with exports valued at around $17 million. Its 12th largest export market is India, valued at around $3 million.
Maldives Trade in SASEC Subregion, 2015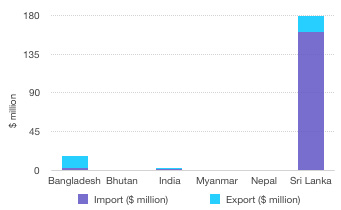 Maldives Trade - Import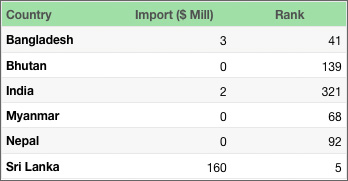 Maldives Trade - Export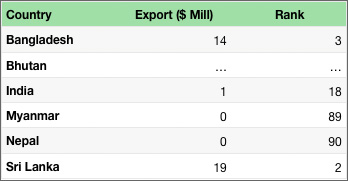 Ease of Doing Business
In 2016, Maldives introduced more payment counters at the tax authority and express counters at peak periods, to ease the process of filing taxes. Maldives also introduced additional disclosure requirements for filing corporate income tax returns.
However, obtaining construction permits became more difficult with the additional requirement for stamped and approved building plans by private structural and architectural checkers prior to a building permit request.

Source: Doing Business
Note: The World Bank/International Finance Corporation's annual flagship Doing Business Report measures the ease of doing business by ranking economies from 1 to 189, based on quantitative indicator sets that can be compared across economies and over time, with first place being the best and indicating a regulatory environment is conducive to business operation. Of immediate relevance to SASEC aims and goals are indicator sets on Starting a Business, and Trading across Borders.
Logistics Performance Index (LPI)
Maldives' overall LPI score for 2016 is 2.51, down from 2.75 in 2014, taking it under the South Asia regional average of 2.62. The overall rank in 2016 fell to 104 out of 160 countries, from 82 in 2014. Considerable improvement in the 2016 score for timeliness (from 2.51 in 2014 to 2.88 in 2016) and marginal improvement in infrastructure were outweighed by clear decline in the remaining four components.
Maldives LPI 2016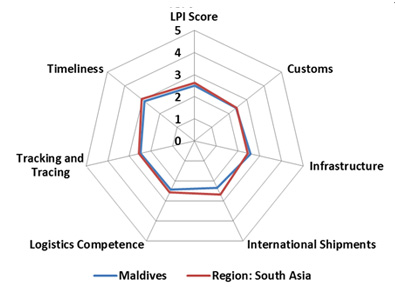 Source: World Bank LPI
Note: The LPI overall score reflects perceptions of a country's logistics based on six core dimensions: (i) efficiency of customs clearance process, (ii) quality of trade- and transport-related infrastructure, (iii) ease of arranging competitively priced shipments, (iv) quality of logistics services, (v) ability to track and trace consignments, and (vi) frequency with which shipments reach the consignee within the scheduled time. The scores for the six areas are averaged across all respondents and aggregated to a single score using principal components analysis. A higher score indicates better performance.
Maldives LPI 2010-2016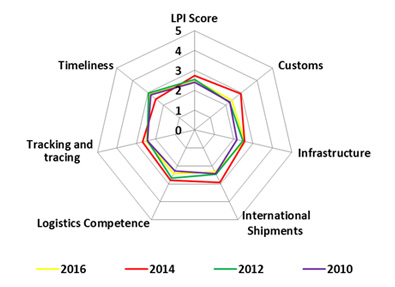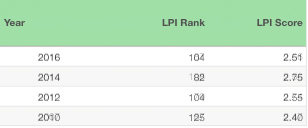 Source: World Bank LPI
Economic Outlook

Asian Development Outlook
Mildly accelerating GDP growth is expected of Maldives. In the first six months of 2016, tourism remained broadly on track with projections, up from 1.3% a year earlier as arrivals grew by 1.8%. Growth was led by higher arrivals from Europe, which indicates sector earnings, recovered to post positive but minimal growth compared to the same 6-month period in previous year. Growth momentum in the construction-led industry sector appears to have been sustained as indicated by surges in imports of wood, cement, and machinery. Industry growth is propelled by foreign-financed projects that provide public goods to support private sector expansion, as well as by continued resort development.

South Asia Regional Update
Inflation is contained in Maldives (1.3% year on year in February). A continued stronger than expected revenue performance resulted in a better than expected out-turn for the fiscal deficit in 2015 (at around 9% of GDP).