Sector: Transport/Rail Total Cost: $163 Million Status: Ongoing
Sector, policy, and capacity building reforms are helping Bangladesh Railway become more commercially focused. Three loan tranches have supported investment subprojects, including double-tracking of the 65 kilometer Tongi-Bhairab Bazar section of the...

Sector: Transport/Ports Total Cost: $1 Million Status: Ongoing
As the principal seaport of Bangladesh, handling about 92% of its import-export trade, Chittagong Port has an important role in the transport sector of the national economy. This technical assistance will prepare a master plan to improve port...

Sector: Transport/Road Total Cost: $950,000 Status: Ongoing
This technical assistance improves two project roads, the Bogra-Natore Road and Bhatiapara-Benapole Road, contributing to infrastructure development along the identified transport corridor. This improvement program helps meet increased demands for...

Sector: Transport/Rail Total Cost: $1.50 Million Status: Ongoing
This project preparatory technical assistance provides additional studies for processing the Investment Program, updates design by Bangladesh Railway, and supports the procurement phase of the project. The project could help create a logistics chain...

Sector: Transport/Road Total Cost: $500,000 Status: Completed
This technical assistance recommended physical improvements in the Chittagong Port Authority (CPA) area to facilitate container clearance processes, as well as measures to improve CPA's capabilities in environmental management. It also aimed to...
Bangladesh is a founding member of the South Asia Subregional Economic Cooperation (SASEC) Program, joining with Bhutan, India, and Nepal in 2001 to form this project-based partnership. Maldives and Sri Lanka became full members of SASEC in May 2014, following several years as active observers.
The Twelfth Five Year Plan for 2018–2023 of the Government of Bangladesh focuses on the following core themes: i) rapid recovery from COVID-19; ii) GDP growth acceleration, employment generation, and rapid poverty reduction with a broad-based strategy of inclusiveness; iii) a sustainable development pathway resilient to disaster and climate change; iv) sustainable use of natural resources and successful management of the inevitable urbanization transition v) development and improvement of critical institutions; and vi) attaining targets of the Sustainable Development Goals and coping with the impact of graduation from least developed country status. In follow up to the the Seventh Five Year Plan FY2016-F2020, the transport sector strategy places emphasis in areas where performance gaps exist to develop an efficient, sustainable, safe, and regionally balanced transportation system. The plan highlights the introduction of modern technology for increasing capacity and improving quality and productivity of the system, development of the two seaports with smooth transport links to Dhaka, establishment of effective railway linkages between the east and west zones of the country, integration of road, rail and inland water transport, and participation in global and regional transport connectivity initiatives that help develop the land route links between South Asia and East Asia through Bangladesh.
SASEC Projects in Bangladesh
Since 2005, the Government of Bangladesh has signed 20 SASEC investment projects worth over $6.6 billion.
Bangladesh:

SASEC Projects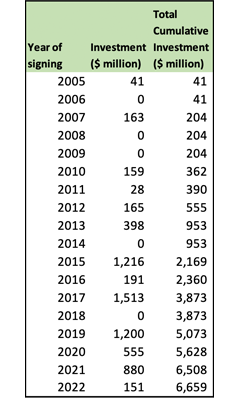 Source: SASEC Project Portfolio, as of March 2023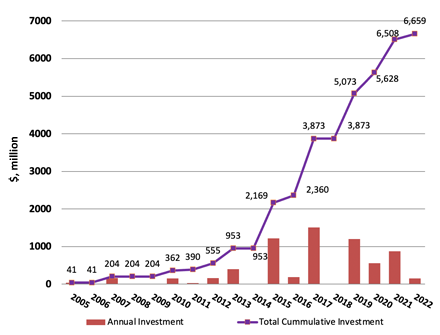 Bangladesh: SASEC Project Portfolio, as of March 2023
In addition to the projects, ADB-financed technical assistance has supported SASEC investment projects in Bangladesh, regional cooperation forums, and knowledge-sharing initiatives, and pilot projects since 2001. A total of 24 national technical assistance projects (worth over $27 million) have assisted Bangladesh in project preparation, strategic planning, and capacity building.
Trade Snapshot
Direction of Intra-regional Trade
The value of Bangladesh's merchandise exports and imports trade with other SASEC member countries, using International Monetary Fund data from 2022, is captured in the tables below.
Bangladesh's top import source, ranking 2nd worldwide, is India, with imported goods valued at over $6.2 billion.
Bangladesh's top export destination in South Asia, and its 9th worldwide, is India, with exports valued at $843 million.
Bangladesh Trade - Import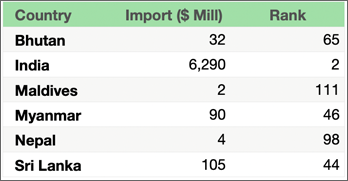 Source: IMF Direction of Trade Statistics, accessed May 2022
Bangladesh Trade - Export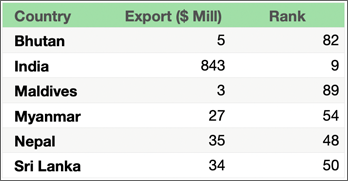 Source: IMF Direction of Trade Statistics, accessed May 2022
Logistics Performance Index (LPI)
The overall LPI score of 2.58 for Bangladesh in 2018 ranks it at 100 out of 168 economies. Bangladesh posted its best scores in timeliness (2.92), tracking and tracing (2.79), and international shipments (2.56). The country's 2018 LPI score roughly reflects the South Asia regional average of 2.51.
Bangladesh LPI 2018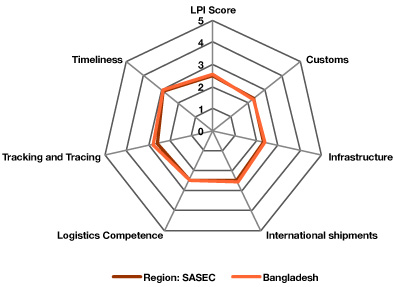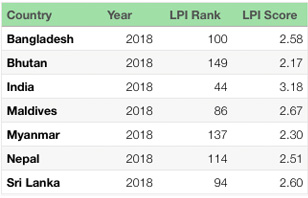 Source: World Bank LPI (accessed December 2018)


Note: The LPI overall score reflects perceptions of a country's logistics based on six core dimensions: (i) efficiency of customs clearance process, (ii) quality of trade- and transport-related infrastructure, (iii) ease of arranging competitively priced shipments, (iv) quality of logistics services, (v) ability to track and trace consignments, and (vi) frequency with which shipments reach the consignee within the scheduled time. The scores for the six areas are averaged across all respondents and aggregated to a single score using principal components analysis. A higher score indicates better performance.
Economic Outlook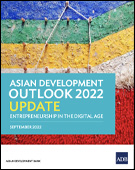 Asian Development Outlook
Bangladesh's growth momentum was maintained in fiscal year (FY) 2022, projected at 7.2%, supported by rapid rise in external demand, stronger than expected exports and imports, and coordinated fiscal and monetary policy measures. Recovery of domestic demand with the easing of COVID-19 restrictions and rising global commodity prices pushed up inflation, projected at 6.2% in FY2022 and 6.7% in FY2023.
Source: Asian Development Outlook 2022 Update (ADB)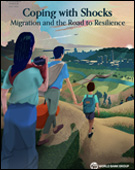 South Asia Economic Focus
Real GDP growth in Bangladesh is projected at 6.1% in FY2022-2023, as higher inflation and rolling power outages dampen post-coronavirus economic recovery in consumption and investment. Export growth will slow due to economic downturns in key export markets. Bangladesh's economic growth is projected at 6.2% for FY2023-2024.
Source: South Asia Economic Focus, Fall 2022 (WB)