Bhutan is a founding member of the SASEC Program, joining with Bangladesh, India, and Nepal in 2001 to form this project-based partnership. The Maldives and Sri Lanka became full members of SASEC in May 2014, following several years as active Observers.
Bhutan's Eleventh Five Year Plan for 2013–2018 highlights "self-reliance and inclusive green socioeconomic development," with primary strategic thrusts on (i) inclusive social development, (ii) green accelerated economic development, and (iii) strategic infrastructure development. The Eleventh Plan further seeks to enhance cooperation with Bhutan's neighbors.
SASEC Projects and Technical Assistance in Bhutan
Since 2003, the Government of Bhutan has approved 9 ADB-financed SASEC investment projects worth more than $484 million.
Bhutan: SASEC Projects and TA, 2003-2016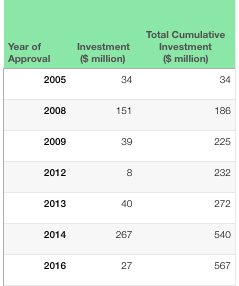 Source: SASEC Project Portfolio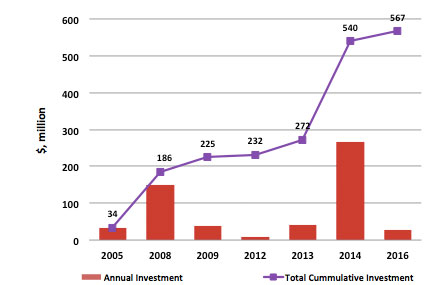 Source: SASEC Project Portfolio
ADB-financed technical assistance has supported SASEC investment projects in Bhutan, regional cooperation forums and knowledge-sharing initiatives, and pilot projects since 2001. A total of 10 national technical assistance projects (cumulative worth $10.7 million) have assisted Bhutan in project preparation, strategic planning, and capacity building.
Trade Snapshot
Direction of Intra-regional Trade
The value of Bhutan's merchandise exports and imports trade with other SASEC member countries, using International Monetary Fund data from 2015, is captured in the tables below.
Bhutan's top import source worldwide is India, with imported goods valued at nearly $1.5 billion. Nepal and Bangladesh, ranking 8th and 13th worldwide, respectively, exports goods to Bhutan valued at around $11 million and $3 million.
Bhutan's top export destination is India, with exported goods from Bhutan valued at around $494 million. Bangladesh and Nepal rank 2nd and 4th, respectively, with exported goods from Bhutan valued at around $66 million and around $13 million.
Bhutan Trade in SASEC Subregion, 2015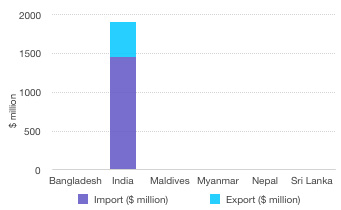 Bhutan Trade - Import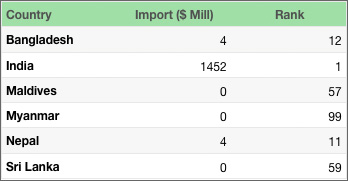 Bhutan Trade - Export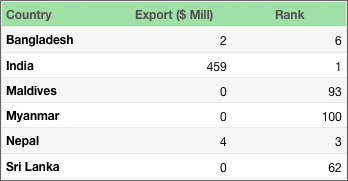 Ease of Doing Business
In 2016, Bhutan enacted two reforms that made it easier to do business:
Implementing a computerized land information system, facilitating easier transfer of property; and
Introducing a speedier process for new electricity connection application.

Source: Doing Business
Note: The World Bank/International Finance Corporation's annual flagship Doing Business Report measures the ease of doing business by ranking economies from 1 to 189, based on quantitative indicator sets that can be compared across economies and over time, with first place being the best and indicating a regulatory environment is conducive to business operation. Of immediate relevance to SASEC aims and goals are indicator sets on Starting a Business, and Trading across Borders.
Logistics Performance Index (LPI)
Bhutan's overall LPI score of 2.32 in 2016 is slightly up from 2.29 in 2014, although below the South Asia regional average score of 2.62. The overall 2016 rank of 135 out of 160 countries is an improvement from 143 in 214, and a result of better scores in Customs, international shipments, and timeliness components.
Bhutan LPI 2016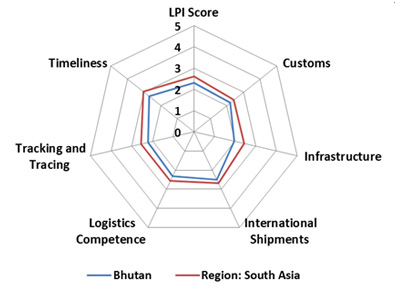 Source: World Bank LPI
Note: The LPI overall score reflects perceptions of a country's logistics based on six core dimensions: (i) efficiency of customs clearance process, (ii) quality of trade- and transport-related infrastructure, (iii) ease of arranging competitively priced shipments, (iv) quality of logistics services, (v) ability to track and trace consignments, and (vi) frequency with which shipments reach the consignee within the scheduled time. The scores for the six areas are averaged across all respondents and aggregated to a single score using principal components analysis. A higher score indicates better performance.
Bhutan LPI 2007-2016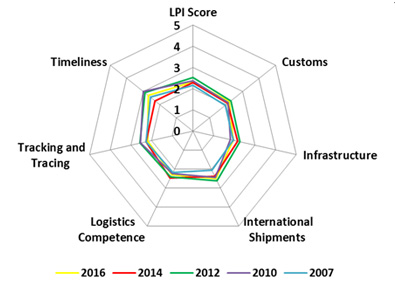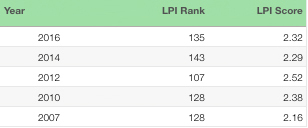 Source: World Bank LPI
Economic Outlook

Asian Development Outlook
Robust economic expansion in Bhutan is supported by rapid growth in industry and services. One driver of growth in FY2016 (ended 30 June 2016) was the construction of three major hydropower projects. Another was hydropower generation mainly for export, which rose by 14.8% from a year earlier. The service sector is expected to be shored up by robust wholesale trade in construction-related goods and intensified government spending. Bhutan can expect lower inflation in 2017.

South Asia Regional Update
The outlook for Bhutan is generally favorable. Growth is on a recovery path, driven by a pick-up in services and on-going hydropower-related construction. In the medium-term, commissioning of new hydropower projects will boost output and exports, as well as fiscal revenues. At the same time, inflation has eased—headline inflation fell to 3.5 percent in 2015 Q4 from 6.7% in 2014 Q4. Inflation is projected to pick up again somewhat from the 2015 Q4 dip, but to remain on a declining trend following that of India.