Sector: Transport/Road Total Cost: $39 Million Status: Ongoing
About 180 kilometers of the southern east-west highway in Bhutan is being upgraded or constructed under this project: (i) Manita-Raidak, (ii) Raidak-Lhamoizingkha, (iii) Pangbang-Amshingwoong (Nganglam), (iv) Tsebar-Mikuri-Durung Ri, and (v)...

Sector: Transport/Air Total Cost: $8 Million Status: Ongoing
ADB is financing airport infrastructure to enhance safety, security, and capacity at three of Bhutan's domestic airports — Bumthang, Gelephu, and Yonphula. The project will improve connectivity for less-developed regions of Bhutan, boosting the...

Sector: Energy Total Cost: $1.60 Million Status: Completed
This technical assistance aimed to expand the national power supply and extend electricity to remote rural households through rural electrification, interregional transmission links, and Dagachhu hydropower development. This contributed to...

Sector: Energy Total Cost: $1 Million Status: Ongoing
The Green Power Development Project II will export Bhutan's hydropower to both Bangladesh and India, through Indian power traders. This project preparatory technical assistance will help address capacity assessment for executing and implementing...

Sector: Energy Total Cost: $198.18 Million Status: Ongoing
Construction of the 118 MW run-of-river Nikachhu hydropower plant will expand regional power trade by further increasing clean hydropower generation in Bhutan to meet growing domestic electricity demand, and also export power to India through a...
Bhutan is a founding member of the SASEC Program, joining with Bangladesh, India, and Nepal in 2001 to form this project-based partnership. Maldives and Sri Lanka became full members of SASEC in May 2014, following several years as active observers.
Bhutan's Eleventh Five Year Plan for 2013–2018 highlights "self-reliance and inclusive green socioeconomic development," with primary strategic thrusts on (i) inclusive social development, (ii) green accelerated economic development, and (iii) strategic infrastructure development. The Eleventh Plan further seeks to enhance cooperation with Bhutan's neighbors.
SASEC Projects in Bhutan
Since 2003, the Government of Bhutan has signed nine ADB-financed SASEC investment projects worth more than $566.45 million.
Bhutan:

SASEC Projects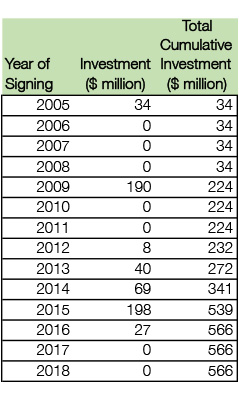 Source: SASEC Project Portfolio, as of October 2019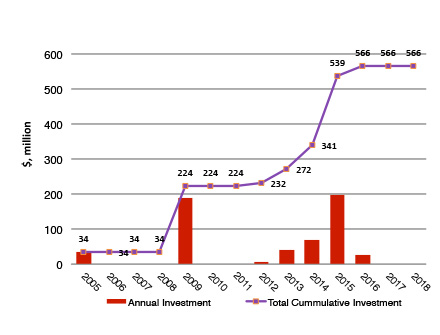 Source: SASEC Project Portfolio, as of October 2019
In addition to projects, ADB-financed technical assistance has supported SASEC investment projects in Bhutan, regional cooperation forums and knowledge-sharing initiatives, and pilot projects since 2001. A total of 11 national technical assistance projects (cumulative worth $12.45 million) have assisted Bhutan in project preparation, strategic planning, and capacity building.
Trade Snapshot
Direction of Intra-regional Trade
The value of Bhutan's merchandise exports and imports trade with other SASEC member countries, using International Monetary Fund data from 2017, is captured in the tables below.
Bhutan's top import source worldwide is India, with imported goods valued at over $1.4 billion. Nepal and Bangladesh, ranking 11th and 12th worldwide, respectively, exports goods to Bhutan valued at around $4 million.
Bhutan's top export destination is India, with exported goods from Bhutan valued at $459 million. Nepal and Bangladesh rank 3rd and 6th, respectively, with exported goods from Bhutan valued at around $4 million and around $2 million.
Bhutan Trade in SASEC Subregion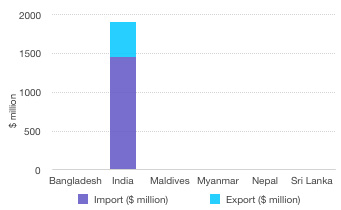 Source: IMF Direction of Trade Statistics
, as of May 2018
Bhutan Trade - Import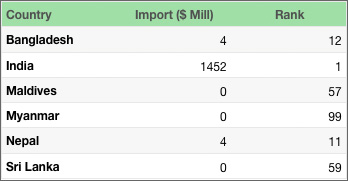 Source: IMF Direction of Trade Statistics
, as of May 2018
Bhutan Trade - Export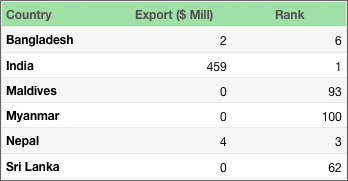 Source: IMF Direction of Trade Statistics
, as of May 2018
Ease of Doing Business
In 2018, Bhutan made paying taxes easier by introducing an online platform for filing corporate income tax and personal income tax returns. At 81st place among 190 countries, Bhutan is the second highest ranked economy in South Asia.

Source: Doing Business, accessed December 2018

Note: The World Bank/International Finance Corporation's annual flagship Doing Business Report measures the ease of doing business by ranking economies from 1 to 190, based on quantitative indicator sets that can be compared across economies and over time, with first place being the best and indicating a regulatory environment is conducive to business operation. Of immediate relevance to SASEC aims and goals are indicator sets on Starting a Business, and Trading across Borders.
Logistics Performance Index (LPI)
Bhutan registered an overall LPI score of 2.17 in 2018, below the South Asia regional average score of 2.51. Bhutan registered improved scores in logistics competence and tracking and tracing (both at 2.35), resulting in an overall 2018 rank of 149 out of 168 economies. The country's best score is in timeliness at 2.49.
Bhutan LPI 2018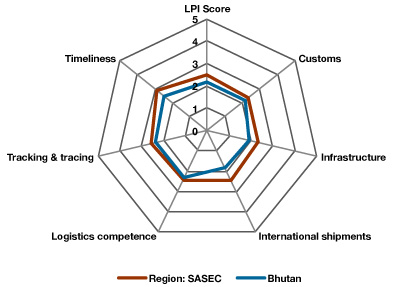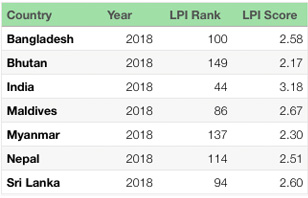 Source: World Bank LPI (accessed December 2018)

Note: The LPI overall score reflects perceptions of a country's logistics based on six core dimensions: (i) efficiency of customs clearance process, (ii) quality of trade- and transport-related infrastructure, (iii) ease of arranging competitively priced shipments, (iv) quality of logistics services, (v) ability to track and trace consignments, and (vi) frequency with which shipments reach the consignee within the scheduled time. The scores for the six areas are averaged across all respondents and aggregated to a single score using principal components analysis. A higher score indicates better performance.
Economic Outlook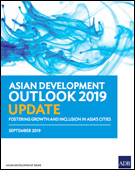 Asian Development Outlook
GDP grew by 5.3% in fiscal year (FY) 2019, with hydropower production being weaker than expected and the significant rise in international tourism. GDP is forecast to rise to 6.0% in FY2020, boosted by the commissioning of the 740-megawatt Mangdechhu Hydropower Plant, new tourism programs, growth in the private sector, and an increase in government capital expenditure under the Twelfth Five-Year Plan.
Source: Asian Development Outlook 2019 Update (ADB)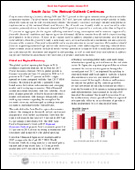 South Asia Regional Update
Economic activity in Bhutan will pick up to around 6.0% in FY2020, supported by strong private consumption. Headline inflation remains contained at only 3.4% as of March 2019. Bhutan is undergoing a middle-income transition and therefore needs continuous reforms and prudent policies to contain economic and financial vulnerabilities, diversify the economy, and enhance competitiveness to sustain growth and further improve its gross national happiness.
Source: South Asia Regional Update, August 2019 (IMF)