India is a founding member of the SASEC Program, joining with Bangladesh, Bhutan, and Nepal in 2001 to form this project-based partnership. The Maldives and Sri Lanka became full members of SASEC in May 2014, following several years as active Observers.
The Twelfth Five-Year Plan (2012-2017) of the Government of India—which seeks faster, sustainable, and more inclusive growth—highlights the need to engage more proactively with the global community at bilateral, regional, and multilateral levels. Placing greater emphasis on the regional cooperation agenda, the Twelfth Five-Year Plan recognizes that the benefits can go well beyond what is possible through the bilateral route.
SASEC Projects and Technical Assistance in India
Since 2001, the Government of India has approved 11 ADB-financed SASEC investment projects worth more than $4 billion, 5 of which are still under implementation.
India: SASEC Projects and TA, 2001-2016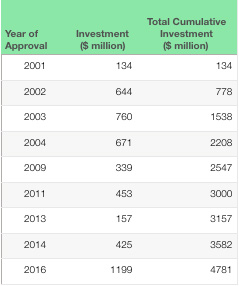 Source: SASEC Project Portfolio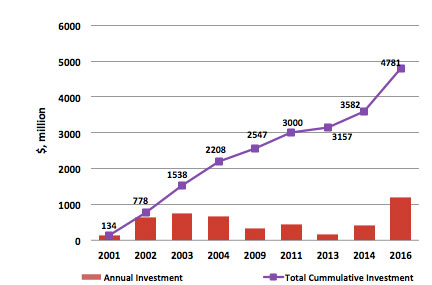 Source: SASEC Project Portfolio
ADB-financed technical assistance has supported SASEC investment projects in India, regional cooperation forums and knowledge-sharing initiatives, and pilot projects since 2001. A total of 8 national technical assistance projects (cumulative worth $8.23 million) have assisted India in project preparation and strategic planning for economic corridor development. At the regional level, India participates in and actively contributes to SASEC forums, strategic planning, and capacity-building and knowledge-sharing events.
Trade Snapshot
Direction of Intra-regional Trade
The value of India's merchandise exports and imports trade with other SASEC member countries, using International Monetary Fund data from 2015, is captured in the tables below.
India's top import source from the SASEC subregion is Myanmar, with imported goods valued at around $1 billion. Sri Lanka follows closely, with imported goods valued at around $854 million.
Bangladesh is India's 9th largest export market, with exports valued at around $5.7 billion. Sri Lanka is India's 10th largest export market, with exported goods from India valued at around $5.5 billion.
India Trade in SASEC Subregion, 2015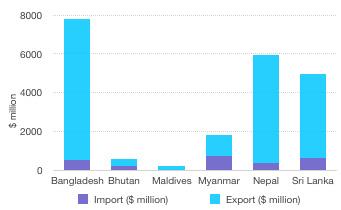 India Trade - Import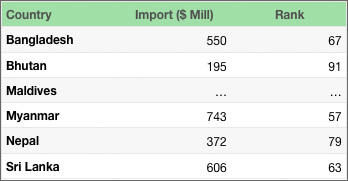 India Trade - Export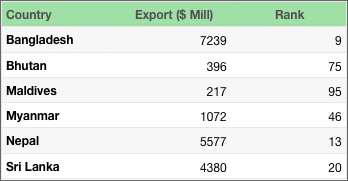 Ease of Doing Business
In 2016, India enacted several reforms that made it easier to do business. These include:
Eliminating the minimum capital requirement and the need to obtain a certificate to commence business operations;
Eliminating the internal wiring inspection by the Electrical Inspectorate, making the process for getting an electricity connection simpler and faster in Delhi; and
Reducing the procedures and time required to connect to electricity by improving internal work processes and coordination in Mumbai.

Source: Doing Business
Note: The World Bank/International Finance Corporation's annual flagship Doing Business Report measures the ease of doing business by ranking economies from 1 to 189, based on quantitative indicator sets that can be compared across economies and over time, with first place being the best and indicating a regulatory environment is conducive to business operation. Of immediate relevance to SASEC aims and goals are indicator sets on Starting a Business, and Trading across Borders.
Logistics Performance Index (LPI)
India's overall LPI score in 2016 is 3.42, almost a full point above the regional LPI score 0f 2.62 for South Asia. Strong improvement across all six components—and most notably in Customs, infrastructure, and tracking and tracing—took India from the overall LPI rank of 54 in 2014, to 35 in 2016.
India LPI 2016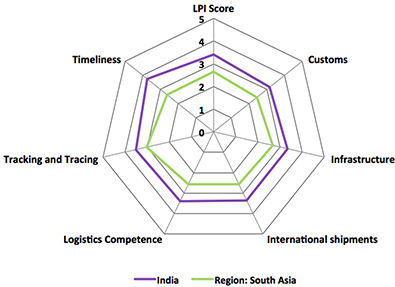 Source: World Bank LPI
Note: The LPI overall score reflects perceptions of a country's logistics based on six core dimensions: (i) efficiency of customs clearance process, (ii) quality of trade- and transport-related infrastructure, (iii) ease of arranging competitively priced shipments, (iv) quality of logistics services, (v) ability to track and trace consignments, and (vi) frequency with which shipments reach the consignee within the scheduled time. The scores for the six areas are averaged across all respondents and aggregated to a single score using principal components analysis. A higher score indicates better performance.
India LPI 2007-2016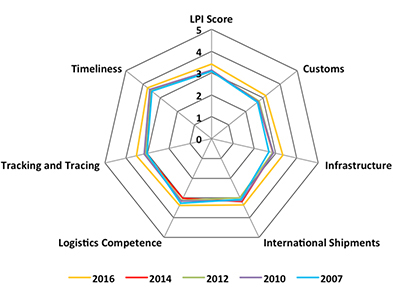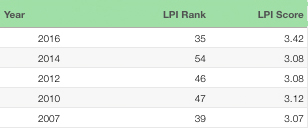 Source: World Bank LPI
Economic Outlook

Asian Development Outlook
Economic growth in India gained momentum in the final quarter of FY2015 and pushed full-year growth to 7.6% in line with the ADO 2016 estimate. India's growth is expected to undergo a slight slowdown to 7.4% in 2016 as exports decline and both public and private investment slows, but rebound to 7.8% in 2017 as the business environment improves, and exports and investment recover.
World Economic Outlook
As forecast in October 2015, growth is projected to notch up to 7.5% in 2016–2017, a rise from 7.3% in 2015. Growth will continue to be driven by private consumption, which has benefited from lower energy prices and higher real incomes. With the revival of sentiment and pickup in industrial activity, a recovery of private investment is expected to further strengthen growth.
Source: World Economic Outlook 2016, IMF