Sector: Transport/Road Total Cost: $425 Million Status: Ongoing
This project will improve 430 kilometers of highway and state roads in North Bengal and the northeastern region of India, leading to faster and safer travel and boosting local and regional trade for business and local populations. This road corridor...

Sector: Transport/Rail Total Cost: $1.25 Million Status: Completed
This technical assistance helped prepare the Railway Sector Investment Program, which aimed to enhance Indian Railway's carrying capacity and organizational efficiency by double-tracking existing railway lines in critical sections and electrifying...

Sector: Transport Total Cost: $1.80 Million Status: Ongoing
This technical assistance cluster (C-TA) assists the Govenment of India and Government of West Bengal prepare a detailed design for the SASEC Subregional Road Connectivity Project that will improve priority road corridors and land customs stations...

Sector: Transport/Road Total Cost: $425 Million Status: Ongoing
This project is the first disbursement of a multitranche financing facility investment program that will increase domestic and regional trade through North Bengal and the North Eastern Region of India by improving road connectivity and efficiency of...
India is a founding member of the SASEC Program, joining with Bangladesh, Bhutan, and Nepal in 2001 to form this project-based partnership. The Maldives and Sri Lanka became full members of SASEC in May 2014, following several years as active Observers.
The Twelfth Five-Year Plan (2012-2017) of the Government of India—which seeks faster, sustainable, and more inclusive growth—highlights the need to engage more proactively with the global community at bilateral, regional, and multilateral levels. Placing greater emphasis on the regional cooperation agenda, the Twelfth Five-Year Plan recognizes that the benefits can go well beyond what is possible through the bilateral route.
SASEC Projects in India
Since 2001, the Government of India has approved 12 ADB-financed SASEC investment projects worth more than $4.78 billion.
India:

SASEC Projects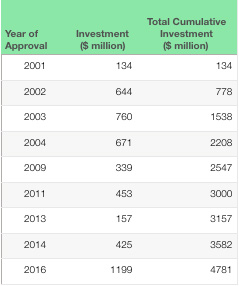 Source: SASEC Project Portfolio, as of April 2018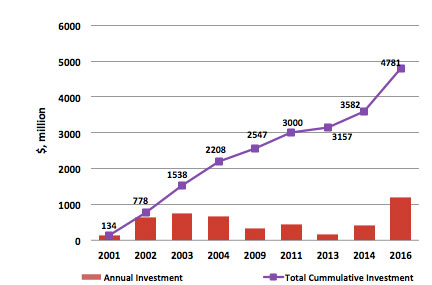 Source: SASEC Project Portfolio, as of April 2018
In addition to the projects, ADB-financed technical assistance has supported SASEC investment projects in India, regional cooperation forums and knowledge-sharing initiatives, and pilot projects since 2001. A total of eight national technical assistance projects (cumulative worth $8.23 million) have assisted India in project preparation, strategic planning, and capacity-building.
Trade Snapshot
Direction of Intra-regional Trade
The value of India's merchandise exports and imports trade with other SASEC member countries, using International Monetary Fund data from 2017, is captured in the tables below.
India's top import source from the SASEC subregion is Myanmar, with imported goods valued at $743 million. Sri Lanka follows closely, with imported goods valued at $606 million.
Bangladesh is India's 9th largest export market, with exports valued at over $7.2 billion. Nepal is India's 13th largest export market, with exported goods from India valued at almost $5.6 billion.
India Trade in SASEC Subregion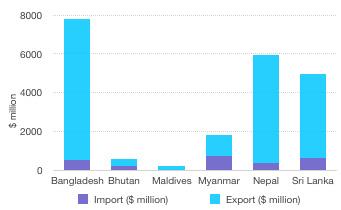 Source: IMF Direction of Trade Statistics, as of May 2018
India Trade - Import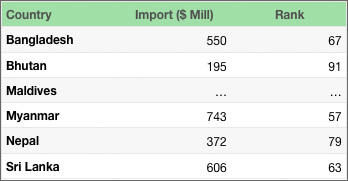 Source: IMF Direction of Trade Statistics, as of May 2018
India Trade - Export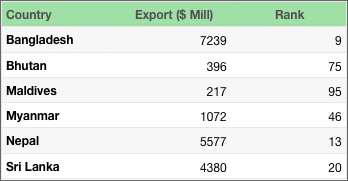 Source: IMF Direction of Trade Statistics, as of May 2018
Ease of Doing Business
In 2018, India jumped 30 places up in the Doing Business global rankings by enacting the following reforms:
Improving trading across borders by upgrading the Nhava Sheva Port infrastructure in Mumbai to speed up import border compliance time. The country also removed merchant overtime fees to cut down on export and import border compliance costs, and increased the use of electronic and mobile platforms;
Combining the applications for the Permanent Account Number and the Tax Account Number, and streamlining the online application system;
Implementing an online system that made the process of obtaining a building permit at the Municipality of New Delhi and Municipality of Greater Mumbai more efficient;
Amending the rules on priority of secured creditors outside reorganization proceedings and adopting a new law on insolvency to strengthen access to credit;
Increasing the remedies available in cases of prejudicial transactions between interested parties to protect minority investors better;
Making payment of EPF mandatory electronically and introducing a set of administrative measures easing compliance with corporate income tax;
Introducing the National Judicial Data Grid, making it simpler to enforce contracts;
Adopting a new insolvency and bankruptcy code for corporate debtors; and
Adding more days to paid maternity.

Source: Doing Business, as of April 2018

Note: The World Bank/International Finance Corporation's annual flagship Doing Business Report measures the ease of doing business by ranking economies from 1 to 189, based on quantitative indicator sets that can be compared across economies and over time, with first place being the best and indicating a regulatory environment is conducive to business operation. Of immediate relevance to SASEC aims and goals are indicator sets on Starting a Business, and Trading across Borders.
Logistics Performance Index (LPI)
India's overall LPI score in 2016 is 3.42, almost a full point above the regional LPI score 0f 2.62 for South Asia. Strong improvement across all six components—and most notably in Customs, infrastructure, and tracking and tracing—took India from the overall LPI rank of 54 in 2014, to 35 in 2016.
India LPI 2016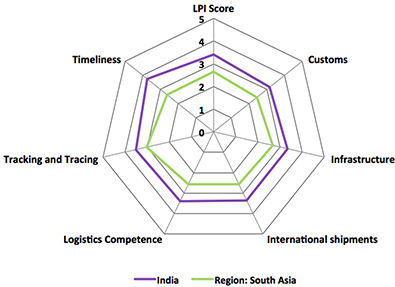 Source: World Bank LPI


Note: The LPI overall score reflects perceptions of a country's logistics based on six core dimensions: (i) efficiency of customs clearance process, (ii) quality of trade- and transport-related infrastructure, (iii) ease of arranging competitively priced shipments, (iv) quality of logistics services, (v) ability to track and trace consignments, and (vi) frequency with which shipments reach the consignee within the scheduled time. The scores for the six areas are averaged across all respondents and aggregated to a single score using principal components analysis. A higher score indicates better performance.
India LPI 2007-2016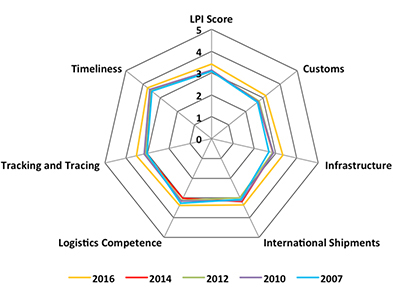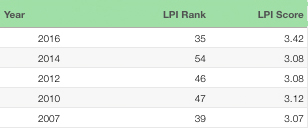 Source: World Bank LPI
Economic Outlook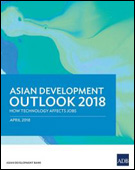 Asian Development Outlook
Economic growth slowed to 6.6% in fiscal year 2017 as landmark tax reform faced transitory headwinds in India. Inflation eased, and the current account deficit widened but remained modest. After two years of moderating growth, the economy is projected to rebound on stronger domestic demand, aided by measures to spur rural incomes, a modest uptick in investment, and an improved business environment.
Source: Asian Development Outlook 2018 (ADB)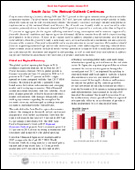 South Asia Regional Update
GDP growth in India is staging on a modest recovery to 6.3% with a pick-up in investment after five quarters of continuous slowing. India has experienced a strong rebound in international reserves and capital inflows, due to reduced external vulnerabilities, improved growth prospects, and continued relaxation in foreign direct investment ceilings.
Source: South Asia Regional Update, January 2018 (IMF)