Sector: Transport/Road Total Cost: $425 Million Status: Ongoing
This project will improve 430 kilometers of highway and state roads in North Bengal and the northeastern region of India, leading to faster and safer travel and boosting local and regional trade for business and local populations. This road corridor...

Sector: Transport/Rail Total Cost: $1.25 Million Status: Completed
This technical assistance helped prepare the Railway Sector Investment Program, which aimed to enhance Indian Railway's carrying capacity and organizational efficiency by double-tracking existing railway lines in critical sections and electrifying...

Sector: Transport Total Cost: $1.80 Million Status: Ongoing
This technical assistance cluster (C-TA) assists the Govenment of India and Government of West Bengal prepare a detailed design for the SASEC Subregional Road Connectivity Project that will improve priority road corridors and land customs stations...

Sector: Transport/Road Total Cost: $425 Million Status: Ongoing
This project is the first disbursement of a multitranche financing facility investment program that will increase domestic and regional trade through North Bengal and the North Eastern Region of India by improving road connectivity and efficiency of...
India is a founding member of the SASEC Program, joining with Bangladesh, Bhutan, and Nepal in 2001 to form this project-based partnership. Maldives and Sri Lanka became full members of SASEC in May 2014, following several years as active observers.
The country released its comprehensive national Strategy for New India @ 75, which defines growth objectives for 2022 and discusses policy recommendations in such areas as energy, infrastructure, and connectivity. The development strategy aims to help India achieve broad-based economic growth to ensure balanced development across all regions and states and across sectors.
SASEC Projects in India
Since 2002, the Government of India has signed 17 SASEC investment projects worth more than $6.3 billion.
India:

SASEC Projects
Source: SASEC Project Portfolio, as of March 2022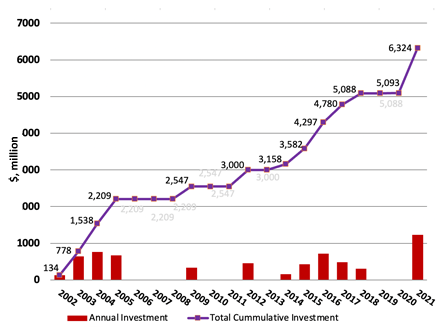 Source: SASEC Project Portfolio, as of March 2022
In addition to the projects, technical assistance has supported SASEC investment projects in India, regional cooperation forums and knowledge-sharing initiatives, and pilot projects since 2001. A total of 14 national technical assistance projects (cumulative worth around $16.28 million) have assisted India in project preparation, strategic planning, and capacity building.
Trade Snapshot
Direction of Intra-regional Trade
The value of India's merchandise exports and imports trade with other SASEC member countries, using International Monetary Fund data from 2020, is captured in the tables below.
India's top import source from the SASEC subregion is Bangladesh, with imported goods valued at over $1.2 billion. Sri Lanka follows closely, with imported goods valued at over $1 billion.
Bangladesh is India's 9th largest export market, with exports valued at over $8 billion. Nepal is India's 10th largest export market, with exported goods from India valued at over $7 billion.
India Trade in SASEC Subregion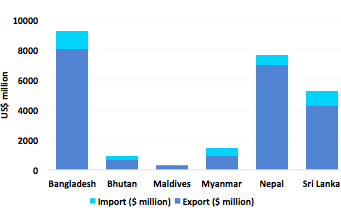 Source: IMF Direction of Trade Statistics, as of October 2020
India Trade - Import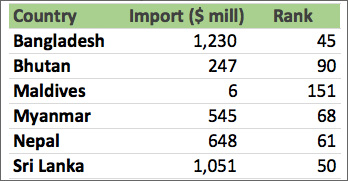 Source: IMF Direction of Trade Statistics, as of October 2020
India Trade - Export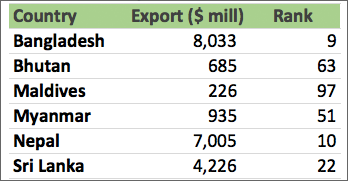 Source: IMF Direction of Trade Statistics, as of October 2020
Logistics Performance Index (LPI)
Of the SASEC member countries, India scored highest at 3.18 and a rank of 44. India's overall LPI score in 2018 is ahead of the South Asia regional average of 2.51. The country posted its best scores in timeliness (3.5), tracking and tracing (3.32), and international shipments (3.21).
India LPI 2016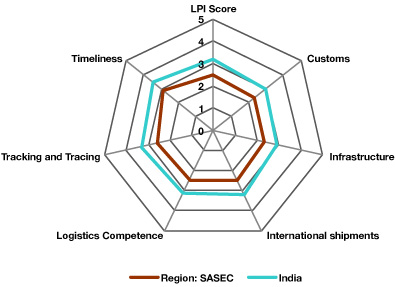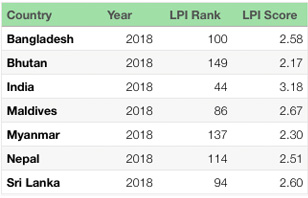 Source: World Bank LPI (accessed December 2018)


Note: The LPI overall score reflects perceptions of a country's logistics based on six core dimensions: (i) efficiency of customs clearance process, (ii) quality of trade- and transport-related infrastructure, (iii) ease of arranging competitively priced shipments, (iv) quality of logistics services, (v) ability to track and trace consignments, and (vi) frequency with which shipments reach the consignee within the scheduled time. The scores for the six areas are averaged across all respondents and aggregated to a single score using principal components analysis. A higher score indicates better performance.
Economic Outlook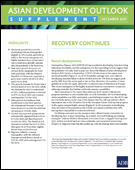 Asian Development Outlook
India's gross domestic product growth remains strong, driven by growth in private consumption, investments, and services. However, manufacturing is projected to grow more slowly than anticipated amid chip shortages that hindered the production and sale of automobiles and electronic goods. Growth projection for India is set at 9.7% in fiscal year (FY) 2021. For FY2022, growth is expected to moderate to 7.5% as domestic demand normalizes. Inflation is estimated at 5.6% for FY2021 and 4.8% for FY2022.
Source: Asian Development Outlook 2021 Supplement (ADB)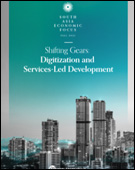 South Asia Economic Focus
A second wave of the coronavirus (COVID-19) pandemic hit India in mid-2021, dampening economic growth. India is projected to grow by 8.3% in FY2022. Incentives to boost manufacturing and plans to increase public investment are expected to boost domestic demand. Growth is forecast to stabilize in FY2023 at an estimated 7.5%. The pace of vaccination and reforms in the labor and agriculture sectors will determine the country's prospects for growth.
Source: South Asia Economic Focus, Fall 2021 (WB)