Nepal is a founding member of the SASEC Program, joining with Bangladesh, Bhutan and India in 2001 to form this project-based partnership. The Maldives and Sri Lanka became full members of SASEC in May 2014, following several years as active Observers.
Nepal's new constitution, proclaimed in 2015, paves the way for rapid and inclusive economic growth. The Thirteenth Plan 2013/14–2015/16 aims to decrease to 18% the number of people living below the poverty line. Nepal's Vision 2030 is working toward graduation from its least developed country status by 2022, achieving the Sustainable Development Goals, and becoming a middle-income country by 2030.
SASEC Projects and Technical Assistance in Nepal
Since 2004, the Government of Nepal has approved 9 ADB-financed SASEC investment projects worth more than $859 million.
Nepal: SASEC Projects and TA, 2004-2014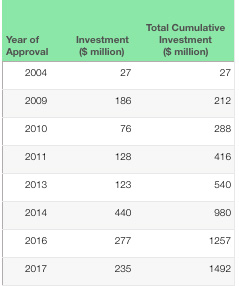 Source: SASEC Project Portfolio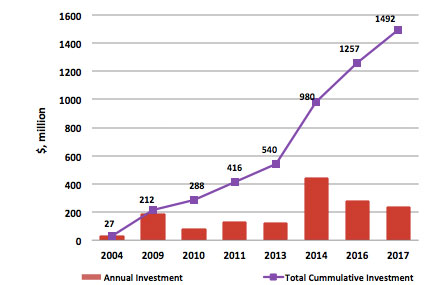 Source: SASEC Project Portfolio
ADB-financed technical assistance has supported SASEC investment projects in Nepal, regional cooperation forums and knowledge-sharing initiatives, and pilot projects since 2001. A total of 9 national technical assistance projects (cumulative worth $5.5 million) have assisted Bangladesh in project preparation, strategic planning, and capacity building.
Trade Snapshot
Direction of Intra-regional Trade
The value of Nepal's merchandise exports and imports trade with other SASEC member countries, using International Monetary Fund data from 2014, is captured in the tables below.
India and Bangladesh are among Nepal's 10 largest export destinations — with India ranked as Nepal's largest export market worldwide, with exports valued at around $547 million. Bangladesh is its sixth top export market, with exports valued at nearly $18 million.
Nepal's top import source worldwide is India, with imported goods valued at nearly $4.85 billion.
Nepal Trade in SASEC Subregion, 2014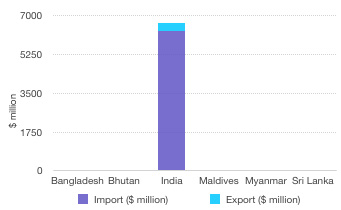 Nepal Trade - Import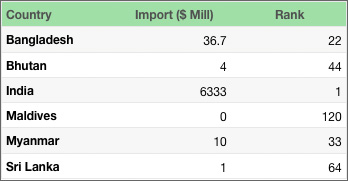 Nepal Trade - Export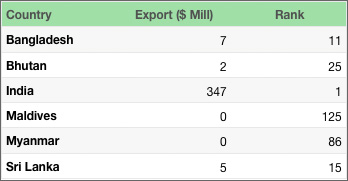 Ease of Doing Business
In 2016, Nepal implemented a new electronic building permit system, easing the process of obtaining construction permits.

Source: Doing Business
Note: The World Bank/International Finance Corporation's annual flagship Doing Business Report measures the ease of doing business by ranking economies from 1 to 189, based on quantitative indicator sets that can be compared across economies and over time, with first place being the best and indicating a regulatory environment is conducive to business operation. Of immediate relevance to SASEC aims and goals are indicator sets on Starting a Business, and Trading across Borders.
Logistics Performance Index (LPI)
Nepal's LPI overall score for 2016 is 2.38, a drop from its 2014 score of 2.59 and below the South Asia average of 2.62. Since 2014, marginal improvement was registered only in the area of infrastructure, while all other areas experienced decline, most notably in Customs and logistics competence. The gains made in 2012-2014 (from the rank of 151 to 105), also recorded a drop to the rank of 124 out of 160 countries.
Nepal LPI 2016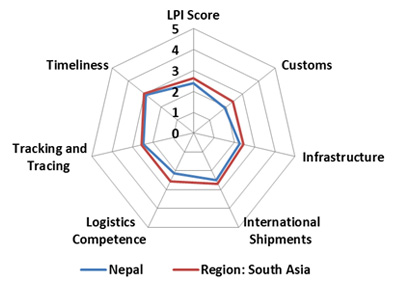 Source: World Bank LPI
Note: The LPI overall score reflects perceptions of a country's logistics based on six core dimensions: (i) efficiency of customs clearance process, (ii) quality of trade- and transport-related infrastructure, (iii) ease of arranging competitively priced shipments, (iv) quality of logistics services, (v) ability to track and trace consignments, and (vi) frequency with which shipments reach the consignee within the scheduled time. The scores for the six areas are averaged across all respondents and aggregated to a single score using principal components analysis. A higher score indicates better performance.
Nepal LPI 2007-2016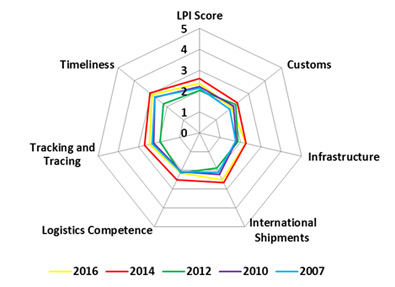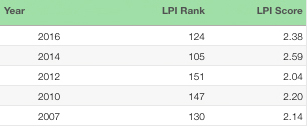 Source: World Bank LPI
Economic Outlook

Asian Development Outlook
Nepal's agriculture and services expanded slightly in 2016, with trade, transport, and tourism (collectively 25% of GDP) either growing marginally or contracting. Rehabilitation and reconstruction picked up after the National Reconstruction Authority became operational in
 early 2016 and is expected to accelerate markedly in 2017.

South Asia Regional Update
Trade and economic activity normalized in Nepal in early February 2016, following the passing of amendments to its new constitution. The country's external position remains strong owing to the combination of severe import compression due to the trade disruption, and continued strong inflows of remittances. International reserves increased by 16% since end-2014/15 to US$8.3 billion (10 months of prospective imports). The outlook is for a slow recovery and risks are skewed to the downside.