Sector: Transport/Road Total Cost: $76 Million Status: Ongoing
Poor connectivity is a major development constraint for Nepal. This project aims to improve the country's road network by creating a north-south link from the north eastern region to the main East-West Highway (EWH). This will boost major...

Sector: Transport/Air Total Cost: $940,000 Status: Completed
Nepal's civil aviation sector needs to be better equipped and structured for long-term, sustainable development. This technical assistance enhanced capacity of Nepal's air transport services. It further reassessed the institutional capacity of the...

Sector: Transport/Road Total Cost: $800,000 Status: Completed
This project preparatory technical assistance provided a continuation of the Road Connectivity Sector 1 Project, necessary in the preparation of project design and feasibility studies for the Road Connectivity Project (RCP). The RCP improved...

Sector: Energy Total Cost: $259.56 Million Status: Ongoing
Nepal has abundant hydropower potential but faces chronic power shortages and low grid access to electricity. This loan will help Nepal address its urgent power system needs by facilitating expansion of domestic power transmission capacity, improving...

Sector: Transport/Road Total Cost: $75.90 Million Status: Ongoing
This loan and grant project will upgrade the country's road network to provide a north-south link between the North Eastern Region and the east-west highway, and improve major international trade corridors in the country in conjunction with the...
Nepal is a founding member of the SASEC Program, joining with Bangladesh, Bhutan and India in 2001 to form this project-based partnership. Maldives and Sri Lanka became full members of SASEC in May 2014, following several years as active observers.
Nepal's new constitution, proclaimed in 2015, paves the way for rapid and inclusive economic growth. The Fifteenth Plan 2020/21–2024/25 aims to generate employment and achieve minimum average economic growth of 9.4% per annum. Nepal's vision for 2030 is helping the country work toward graduation from its least developed country status by 2022, achieving the Sustainable Development Goals, and becoming a middle-income country by 2030.
SASEC Projects in Nepal
Since 2005, the Government of Nepal has signed 14 ADB-financed SASEC investment projects worth around $1.8 billion.
Nepal:

SASEC Projects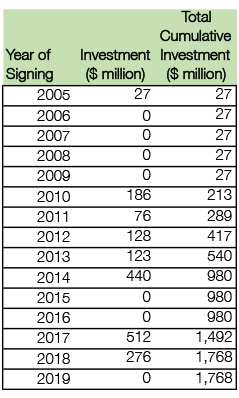 Source: SASEC Project Portfolio, as of October 2019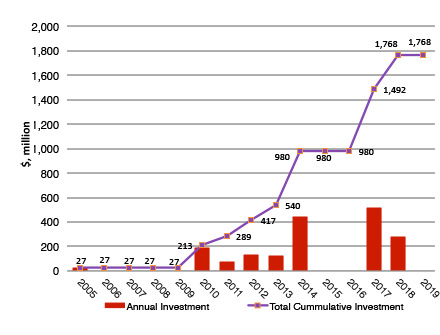 Source: SASEC Project Portfolio, as of October 2019
In addition to the projects, ADB-financed technical assistance has supported SASEC investment projects in Nepal, regional cooperation forums and knowledge-sharing initiatives, and pilot projects since 2001. A total of 12 national technical assistance projects (worth over $9 million) have assisted Nepal in project preparation, strategic planning, and capacity building.
Trade Snapshot
Direction of Intra-regional Trade
The value of Nepal's merchandise exports and imports trade with other SASEC member countries, using International Monetary Fund data from 2020, is captured in the tables below.
Nepal's top import source worldwide is India, with imported goods valued at over $8.2 billion.
India is Nepal's largest export market worldwide, with exports valued at $641 million. Bangladesh is its 8th top export market, with exports valued at $12 million.
Nepal Trade in SASEC Subregion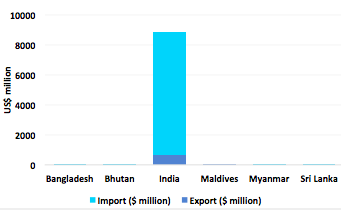 Source: IMF Direction of Trade Statistics, as of October 2020
Nepal Trade - Import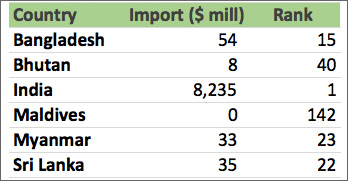 Source: IMF Direction of Trade Statistics, as of October 2020
Nepal Trade - Export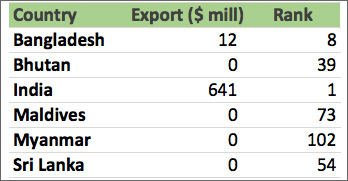 Source: IMF Direction of Trade Statistics, as of October 2020
Ease of Doing Business
Nepal moved up 16 places, rising to 94 out of 190 economies in the Doing Business rankings for 2020. Nepal reduced the time and cost of trading across borders by opening the Birgunj Integrated Check Post at the Nepal-India border. Through online submissions, Nepal made dealing with construction permits easier and less costly. The country also improved access to credit information by expanding the coverage of the credit bureau.

Source: Doing Business, accessed June 2020

Note: The World Bank/International Finance Corporation's annual flagship Doing Business Report measures the ease of doing business by ranking economies from 1 to 190, based on quantitative indicator sets that can be compared across economies and over time, with first place being the best and indicating a regulatory environment is conducive to business operation. Of immediate relevance to SASEC aims and goals are indicator sets on Starting a Business, and Trading across Borders.
Logistics Performance Index (LPI)
Nepal's overall LPI score for 2018 is 2.51, a significant improvement from its 2016 score of 2.38 and only slightly below the South Asia regional average of 2.51. The country climbed 10 spots to 114 out of 168 economies, from 124th place in 2016. Improvements in customs efficiency, customs clearance procedures, trade-related infrastructure, and ease of doing cross-border trade account for the improved score for Nepal.
Nepal LPI 2018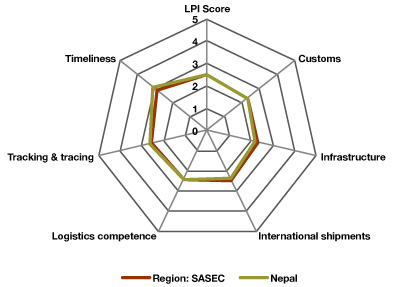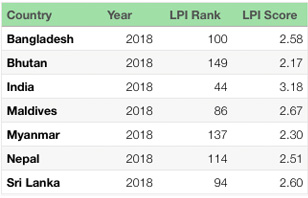 Source: World Bank LPI (accessed December 2018)


Note: The LPI overall score reflects perceptions of a country's logistics based on six core dimensions: (i) efficiency of customs clearance process, (ii) quality of trade- and transport-related infrastructure, (iii) ease of arranging competitively priced shipments, (iv) quality of logistics services, (v) ability to track and trace consignments, and (vi) frequency with which shipments reach the consignee within the scheduled time. The scores for the six areas are averaged across all respondents and aggregated to a single score using principal components analysis. A higher score indicates better performance.
Economic Outlook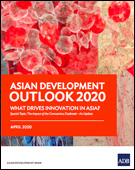 Asian Development Outlook
Nepal's growth expanded in fiscal year (FY) 2019 following a bumper harvest and strong tourism, remittances, and private investment. Moderate growth of 5.3% in FY2020 is expected under the effects of the coronavirus pandemic on tourism, remittances, and agriculture. Inflation is projected to moderate to 5.5% in FY2021.
Source: Asian Development Outlook 2020 (ADB)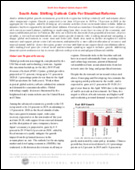 South Asia Regional Update
Economic activity in Nepal remains robust as FY2018/2019 growth reached 7.1%, on the back of growth in tourism, a rebound in the agriculture sector, and the ongoing reconstruction from the 2015 earthquake. Headline inflation rose to 5.3% year-on-year in May 2019. Maintaining the recent growth momentum while fostering an environment for sustained high and inclusive growth is the challenge that Nepal must face.
Source: South Asia Regional Update, August 2019 (IMF)