Myanmar became the seventh member of the SASEC partnership in March 2017. Its participation in SASEC is expected to further promote and accelerate inter-subregional cooperation between South Asia and Southeast Asia and beyond, and will contribute significantly to achieving the future development goals of both subregions.
Myanmar became a full member of SASEC in February 2017, following several years as an active observer. Bangladesh, Bhutan, India, and Nepal formed the project-based partnership in 2001. Maldives and Sri Lanka joined SASEC in May 2014.
Myanmar's National Comprehensive Development Plan (NDCP) A Prosperous Nation Integrated Into the Global Community 2030 envisions a prosperous country integrated into the global community, supported by strategic thrusts in economic development, environmental protection, and the strengthening of governance and public institutions. In view of the changing global and regional economy, Myanmar intends to focus on integration into the global economic system, emphasizing institutional and policy changes, and implementing sectoral and regional strategies.
SASEC Technical Assistance in Myanmar
ADB-financed technical assistance has supported SASEC activities in Myanmar to help advance the country's engagement in regional cooperation activities, including under the Bay of Bengal Initiative for Multi-Sectoral Technical and Economic Cooperation (BIMSTEC) framework. Myanmar has actively participated—first as observer, and then as full member—in SASEC regional technical assistance projects that have supported regional cooperation forums, knowledge-sharing initiatives, and capacity building.
Trade Snapshot
Direction of Intra-regional Trade
The value of Myanmar's merchandise exports and imports trade with other SASEC member countries, using International Monetary Fund data from 2022, is captured in the tables below.
Myanmar's 6th largest import source worldwide is India, with imports at $682 million. Its 22nd largest import source is Bangladesh, valued at $48 million.
India and Bangladesh are among Myanmar's largest export destinations—India is Myanmar's 6th largest export market, with exports valued at $696 million. Bangladesh is Myanmar's 25th largest market, with exports from Myanmar at $64 million.
Myanmar Trade - Import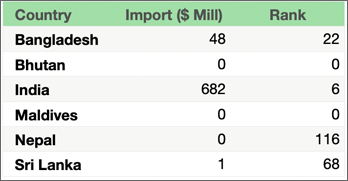 Source: IMF Direction of Trade Statistics, accessed May 2022
Myanmar Trade - Export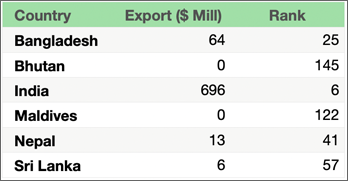 Source: IMF Direction of Trade Statistics, accessed May 2022
Logistics Performance Index (LPI)
Myanmar's overall LPI score for 2018 is 2.3. The country saw an improved score in timeliness (2.91 from 2.85) and a dip in its scores in the five other categories. It scored 2.28 in logistics competence and 2.20 in both international shipments and tracking and tracing. Myanmar ranked 137 out of 168 economies in 2018.
Myanmar LPI 2018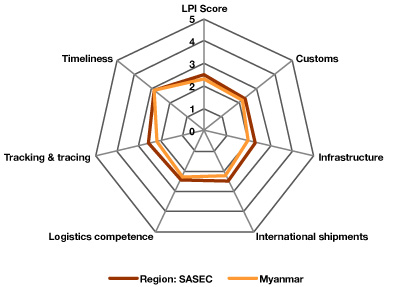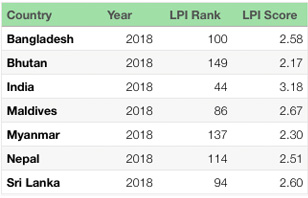 Source: World Bank LPI (accessed December 2018)


Note: The LPI overall score reflects perceptions of a country's logistics based on six core dimensions: (i) efficiency of customs clearance process, (ii) quality of trade- and transport-related infrastructure, (iii) ease of arranging competitively priced shipments, (iv) quality of logistics services, (v) ability to track and trace consignments, and (vi) frequency with which shipments reach the consignee within the scheduled time. The scores for the six areas are averaged across all respondents and aggregated to a single score using principal components analysis. A higher score indicates better performance.
Economic Outlook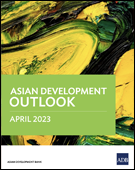 Asian Development Outlook
Myanmar's real gross domestic product (GDP) will grow by an estimated 2.8% in fiscal year (FY) 2023 amid challenges that affect inflation and real growth. Real GDP is projected at 3.2% in FY2024. Inflation is estimated to slow down to 10.5% in FY2023 and 8.2% in FY2024. Strengthening health and social services and the promotion of economic and educational opportunities could help protect the population from future shocks.
Source: Asian Development Outlook, April 2023 (ADB)