India, Myanmar Engagement in Various Sectors Continue 
1 October 2020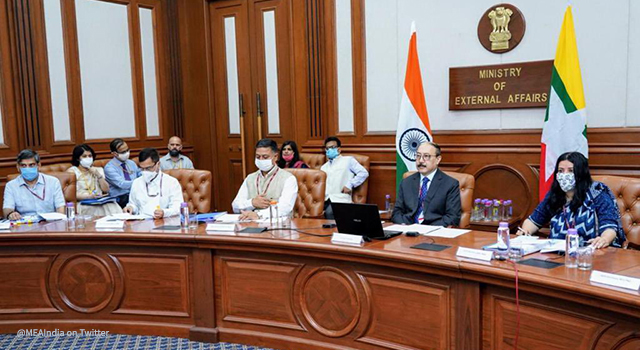 The Governments of India and Myanmar lauded the continuous engagement in sectors of cooperation through virtual meetings amid the ongoing coronavirus disease (COVID-19) pandemic. This reflects the depth of bilateral engagement between the two countries, highlighted the news release for the 19th round of India-Myanmar Foreign Office Consultations. The online consultation was convened on 1 October 2020 led by Mr. Harsh Vardhan Shringla, Foreign Secretary of India, and Mr. Soe Han, Permanent Secretary of Myanmar.
The consultations reviewed various aspects of bilateral relations, such as (i) border cooperation and upgradation of border infrastructure, (ii) status of India's ongoing development projects in Myanmar, (iii) trade and investment ties, (iv) power and energy cooperation, (v) consular matters and cultural cooperation, and (vi) cooperation in regional and multilateral fora.
The meeting also discussed the challenges posed by COVID-19 pandemic and ways to mitigate its impact, through measures including vaccine development, supply of medicines, equipment and technology, and capacity building.
During the meeting, Mr. Shringla also remarked that India and Myanmar are working to operationalize Sittwe port by the first quarter of 2021, despite the challenges caused by the COVID-19 pandemic. The tendering process for 69 bridges for the India-Myanmar-Thailand trilateral highway will also begin soon, the Foreign Secretary is quoted by the Hindustan Times.
Both sides reaffirmed the importance they attach to the partnership between the two countries, and reiterated their commitment to further strengthen bilateral relations
Related Link: