Sector: ICT Total Cost: $500,000 Status: Completed
The four participating countries – Bangladesh, Bhutan, India and Nepal – of the South Asia Subregional Economic Cooperation program agreed on the project design of the SASEC Information Highway to promote better ICT connectivity and closer...

Sector: Transport Management Total Cost: $960,000 Status: Completed
This project enhanced interregional integration by increasing trade and travel among BIMSTEC South Asian countries – Bangladesh, Bhutan, India, Nepal, and Sri Lanka. It helped develop policy to address barriers in effective and efficient trade...

Sector: Energy Total Cost: $750,000 Status: Completed
This technical assistance prepared a proposal for a South Asia Association for Regional Cooperation (SAARC) regional power exchange to facilitate regional development of the power market and enhance power trading among SAARC member countries. It...

Sector: Multisector Total Cost: $4.72 Million Status: Ongoing
This project will enhance regional economic cooperation in South Asia through agreed regional cooperation projects and activities. It will assist participating countries to prioritize and prepare regional projects, create venues for regional exchange...

Sector: Public Sector Management Total Cost: $700,000 Status: Completed
This technical assistance strengthened knowledge-based collaboration among South Asian policymakers, researchers, and private sector investors in four research areas significant to regional cooperation. The Research and Information System for...
Sri Lanka became a full member of SASEC in May 2014, together with Maldives, following several years as an active observer. Bangladesh, Bhutan, India, and Nepal formed the project-based partnership in 2001.
The Progress Report of the Ministry of National Policies and Economic Affairs for the Year 2015 and Development Program for the Year 2016 of the Government of Sri Lanka highlights the Government's aim to put into place strategies to implement its five-pillar development plan to build the economy, fight corruption, ensure freedom for all, develop infrastructure and investment, and improve education. To achieve the goal of improving and enhancing the living standards of the people, the Government is introducing key economic policies that will enhance competitiveness of the Sri Lankan market, and establish mega zones to boost technology and industrial development.
SASEC Projects in Sri Lanka
Since 2002, Sri Lanka has actively participated—as an observer, and then as a full member—in SASEC regional cooperation forums, knowledge-sharing activities, and capacity building. An ADB-supported project (worth $702.93 million) will help construct an elevated port access highway with related facilities, in line with SASEC operational priorities for transport. Four technical assistance projects (worth $3.48 million) support Sri Lanka's energy and transport sectors.
Trade Snapshot
Direction of Intra-regional Trade
The value of Sri Lanka's merchandise exports and imports trade with other SASEC member countries, using International Monetary Fund data from 2017, is captured in the tables below.
India is Sri Lanka's top import source worldwide, with imported goods valued at over $4.6 billion.
India ranks 3rd as Sri Lanka's top export destination, with exported goods from Sri Lanka valued at $649 million.
Sri Lanka Trade in SASEC Subregion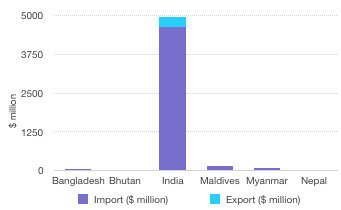 Source: IMF Direction of Trade Statistics, as of May 2018
Sri Lanka Trade - Import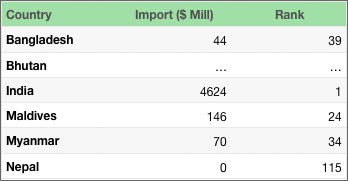 Source: IMF Direction of Trade Statistics, as of May 2018
Sri Lanka Trade - Export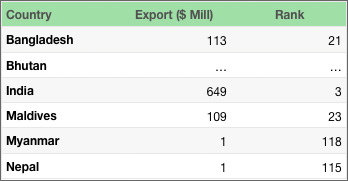 Source: IMF Direction of Trade Statistics, as of May 2018
Ease of Doing Business
In 2018, doing business in Sri Lanka improved owing to reforms in the following areas:
Dealing with Construction Permits: Sri Lanka made dealing with construction permits easier by launching a single window, increasing transparency by providing online access to building regulations and reducing the processing times to issue several building certificates;
Registering Property: Sri Lanka made property registration easier by implementing a single window to streamline the process of delivering several certificates and increased transparency by providing online access to cadastral information;
Paying Taxes: Sri Lanka made paying taxes easier by introducing online systems for filing corporate income tax, value added tax and employee trust fund contributions; and
Enforcing Contracts: Sri Lanka made enforcing contracts easier by introducing a pre-trial conference as part of the case management techniques used in court.

Source: Doing Business, accessed December 2018

Note: The World Bank/International Finance Corporation's annual flagship Doing Business Report measures the ease of doing business by ranking economies from 1 to 190, based on quantitative indicator sets that can be compared across economies and over time, with first place being the best and indicating a regulatory environment is conducive to business operation. Of immediate relevance to SASEC aims and goals are indicator sets on Starting a Business, and Trading across Borders.
Logistics Performance Index (LPI)
After garnering 2.7 in 2014, Sri Lanka posted an overall LPI score of 2.6 in 2018, ahead of the 2018 South Asia regional average score of 2.51. This brings the country at rank 94 out of 168 economies for 2018, compared to 89 for 2014. Sri Lanka's best scores come from tracking and tracing (2.79), timeliness (2.79), and customs (2.58).
Sri Lanka LPI 2018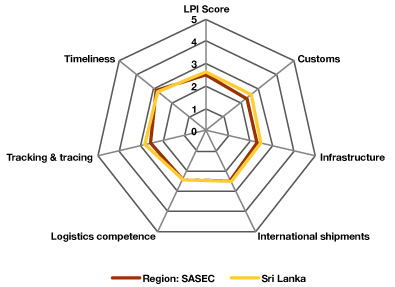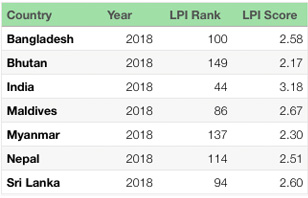 Source: World Bank LPI (accessed December 2018)


Note: The LPI overall score reflects perceptions of a country's logistics based on six core dimensions: (i) efficiency of customs clearance process, (ii) quality of trade- and transport-related infrastructure, (iii) ease of arranging competitively priced shipments, (iv) quality of logistics services, (v) ability to track and trace consignments, and (vi) frequency with which shipments reach the consignee within the scheduled time. The scores for the six areas are averaged across all respondents and aggregated to a single score using principal components analysis. A higher score indicates better performance.
Economic Outlook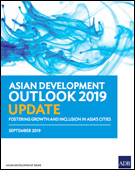 Asian Development Outlook
Sri Lanka's GDP growth rebounded from 1.8% year on year in the fourth quarter of 2018 to 3.7% in the first quarter of 2019, reflecting growth in services and agriculture and recovery in industry. Net exports also added to growth while shrinking of inventories subtracted from growth. GDP is expected to grow by 3.5% in 2020. Inflation forecasts are set at 3.0% for 2019 and 3.8% for 2020.
Source: Asian Development Outlook 2019 Update (ADB)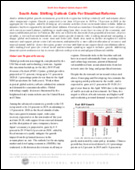 South Asia Regional Update
Economic growth in Sri Lanka has been supported by growth in the tourism sector. Real GDP growth reached 3.8% year-on-year in the first quarter of 2019 supported by a rebound in manufacturing, mining, and construction. Real GDP growth was projected to reach 3.6% in 2019 and 4.0% in 2020 as the tourism sector stabilizes. By the end of 2018, headline inflation dropped to 2.8%. Promoting inclusive growth will need structural reforms that address climate change, implement gender budgeting, and adopt targeted social protection programs.
Source: South Asia Regional Update, August 2019 (IMF)