NADI Conclave Highlights Transformative Potential of India's Northeastern Region's Increased Connectivity
28 May 2022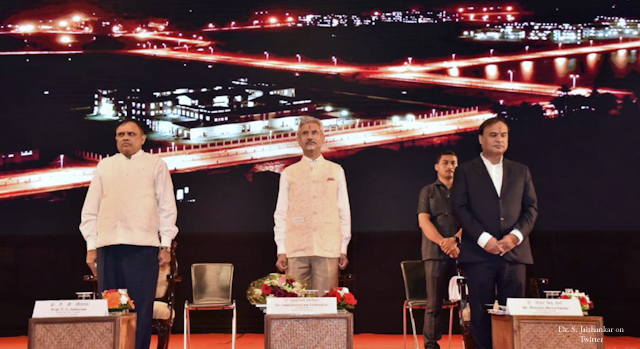 Mr. S. Jaishankar, External Affairs Minister of the Government of India, highlighted in his inaugural address at the Natural Allies in Development and Interdependence (NADI) Asian Confluence River Conclave 2022 the importance of connectivity to improve the ease of doing business and the ease of living, which are key priorities of the Government of India. NADI, organized by Asian Confluence, in partnership with the Government of Assam and the Policy Planning Division of the Ministry of External Affairs, aims to brainstorm specific actions in fostering a people-centric regional narrative on sharing riverine resources for sustainable development.
The External Affairs Minister said that while connectivity may have started with roads and waterways, it also includes power grids and data corridors, education and tourism, energy flows and cultural contacts—anything that connects. He highlighted that increased connectivity between India and its northeastern region and onwards to its neighbors in the subregion will bring a complete transformation to the regional economy.
Mr. Jaishankar said that the coming together of the "Act East" and the "Neighborhood First" policies have an enormous reinforcing impact, extending beyond South Asia. "Think what happens if land connectivity through Myanmar and a sea connectivity through Bangladesh become viable. On a commercial scale, a world all the way to Viet Nam and Philippines, from Haiphong to Hazira and from Manila to Mundra will open up, creating an east-west lateral with sweeping consequences for the continent," said the External Affairs Minister.
He highlighted several important initiatives India is taking to enhance connectivity with Bangladesh, such as (i) the restoration of six historical cross-border rail links; (ii) movement of goods through 28 notified Land Customs Stations (LCSs) and three Integrated Check Posts (ICPs) along the border; (iii) negotiations to operationalize the BBIN Motor Vehicle Agreement to ensure seamless vehicular movement; (iv) Indian road projects in Bangladesh, such as the Ashuganj River Port-Akhaura Land Port Road; (v) agreements on movement of goods from Indian ports through Chittagong and Mongla ports in Bangladesh, and from there overland to Tripura and other parts of the Northeast; and the (vi) success of four border haats.
He also noted cooperation with Bhutan and Nepal, highlighting initiatives including road projects such as the six-lane bridge across the river Mechi connecting to Panitanki in West Bengal to Kakarbhitta in Nepal; and bilateral trade ongoing in Bhutan and India borders.
Looking East, the Minister remarked on development of infrastructure on the India-Myanmar border, including the Kaladan Multimodal Transit Transport Project, efforts to make Sittwe Port operational, as well as the projects that are part of the India-Myanmar-Thailand Trilateral Highway.
Ms. Nirmala Sitharaman, Finance Minister of the Government of India, highlighted in her special address at NADI the importance of developing waterway infrastructure for better logistics.
She put forth that India needs to tap the potential of historic riverine systems with Bangladesh and Nepal to accelerate logistics and expedite growth.
She also noted that the Chattogram (Chittagong) Port in Bangladesh will open up immense possibilities to boost the northeastern region's connection with mainland India.
She reiterated the Government of India's commitment to the "Neighborhood First Policy" and developing the northeastern region as the gateway to Southeast Asia.
Related links
Asian Confluence Facebook Page
Act East' & 'Neighbourhood First' Policies To Have Reinforcing Impact Beyond South Asia : Union Minister – Jaishankar
River links with Bangladesh, Nepal key to India's growth, says Indian finance minister
Assam govt working to make state 'industrial hub': CM Sarma
'NADI' Conclave – Articulating Cooperation In Bay Of Bengal With Southeast Asia; Kicks-Off In Assam
Assam CM hails NADI initiative, says it will increase better cooperation and connectivity with judicious use of natural resources in North-East