ADB, Nepal Sign Loan Agreement for the SASEC Highway Improvement Project
20 November 2018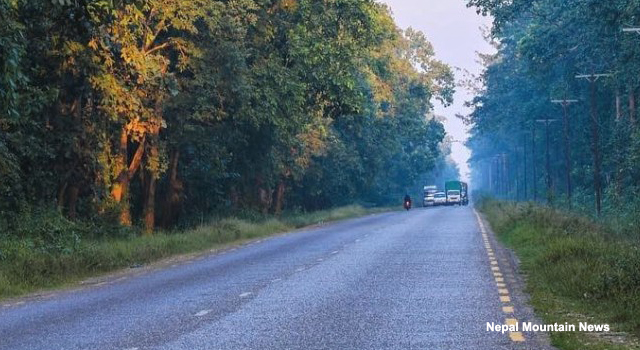 The Asian Development Bank (ADB) committed $180 million financing to enhance the capacity and improve the quality and safety of the East-West Highway (EWH) under the SASEC Highway Improvement Project. The Government of Nepal (GoN) will provide financing worth $76.4 million.
The signing between ADB and the GoN took place at the Ministry of Finance, GoN, on 20 November 2018. Mr. Rajan Khanal, Finance Secretary, GoN, signed on the behalf of the GoN, and Mr. Mukhtor Khamudkhanov, Country Director, Nepal Resident Mission, ADB, signed on behalf of ADB.
The EWH is the main domestic and international trade corridor of Nepal. It forms part of the South Asian Association for Regional Cooperation (SAARC) corridor 4 linking Kathmandu to Dhaka and Chattogram through India.
Key outcomes of this project include:
Rehabilitation and upgrading of about 87 km of road between Kanchanpur and Kamala on the EWH to four lanes, and a 5-year performance-based maintenance period following road construction;
Strengthening of planning and management for road safety through financing of (i) civil works and equipment packages for road safety mitigation measures on the 1,027 km-long EWH; (ii) safety improvements, particularly for pedestrians, and bicycle and motorcycle users; and (iii) a road safety awareness campaign; and
Improved facilities and project readiness of the Project Directorate (ADB) through financing of (i) preparation of detailed engineering design for pipeline road projects along the EWH, and (ii) construction of a modern office for the Project Directorate (ADB) of the Department of Roads.
This project fulfills objectives identified in the SASEC Operational Plan 2016–2025, as well as ADB's country partnership strategy and the country operations business plan for Nepal, 2018–2020.
To complement the project, ADB also implemented a $750,000 technical assistance, "Institutional Strengthening of Road Safety and Gender Equality." This supports improvement of road safety, road maintenance, gender equality, and social inclusion on the 1,027 km-long East-West Highway corridor. It also aims to boost the capacity of the executing and implementing agencies in road safety and road maintenance.
Target completion of the project is on June 2024. Target closing date of the technical assistance is on June 2022.
ADB has been supporting development of the EWH under the SASEC Program. In 2013, ADB committed $186.8 million financing for improvement of 114 km of the EWH to the west of Narayanghat under the Nepal: SASEC Road Connectivity Project. ADB is also reconstructing major roads along the country's Strategic Road Network, which includes the EWH, through the Nepal: Subregional Transport Enhancement Project, signed in 2011.
Related Links: