Bangladesh and Bhutan Strengthen Ties during Prime Minister Hasina's Visit
20 April 2017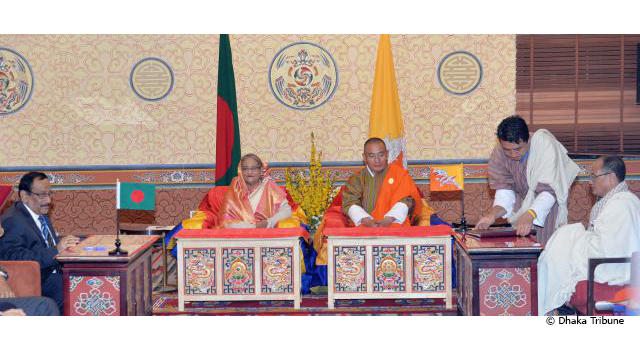 Bangladesh Prime Minister Sheikh Hasina's third state visit to Bhutan on 18-20 April 2017 reinforced the tradition of high-level exchanges between the two countries, affirming friendly bilateral relations grounded on common aspirations for collective prosperity, peace, and development within and beyond the region.
Meeting with Bhutan Prime Minister Tshering Tobgay, the two Prime Ministers solidified Bangladesh-Bhutan bilateral commitments – discussing how to strengthen cooperation in many areas including trade, trade facilitation, transport, hydropower, tourism, ICT, agriculture, health, and water resources, and noting the importance of the growing bilateral trade in strengthening relations. Discussions noted:


Further promotion of trade and investments between the two countries through initiatives such as expanding Bangladesh exports to Bhutan to include ready-made garments, ceramics, pharmaceuticals, jute, leather goods, toiletries, and agricultural produce. Bhutan agreed to facilitate entry of these products;
The proposed trilateral memorandum of understanding (MoU) between Bangladesh, Bhutan, and India on cooperation in hydropower based on the principles of the regional framework. According to Mr. Damcho Dorji, Foreign Minister, Bhutan, the draft MoU is being finalized, and will be signed at an appropriate time when leaders of the three countries meet;
The importance of the Bangladesh-Bhutan-India-Nepal Motor Vehicle Agreement for regional connectivity, and hope for its possible early operationalization;
Regional cooperation initiatives through the Bay of Bengal Initiative for Multi-Sectoral Technical and Economic Cooperation (BIMSTEC), the South Asian Association for Regional Cooperation (SAARC), ang the United Nations;
Need to maximize tourism potential between the two countries; and
Possible cooperation in ICT. Bhutan expressed interest to establish a third internet connectivity gateway from Bangladesh to boost its international broadband.
Six MoUs were also signed in the presence of the two Prime Ministers. These include:
The MoU on Inland Waterways for Transportation of Bilateral Trade and Transit Cargoes to provide Bhutan with connectivity to Chittagong and Mongla ports for trade;
The MoU between the Bhutan Standards Bureau and the Bangladesh Standards Testing Institution to support the two agencies in developing common standards, allow exchange of information on product certification, recognize test certificates, and support each other in the field of metrology and calibration services;
Agreement between the Bhutan Agriculture and Food Regulatory Authority and the Bangladesh Department of Agricultural Extension to ensure that food and produce traded are safe and meet the requirements of the importing country; and
Agreement on Avoidance of Double Taxation and Prevention of Fiscal evasion to reduce trade barriers to cross border investment and boost trade and economic flows
Prime Minister Hasina also called on His Majesty the King and Queen of Bhutan, and unveiled the site for construction of the Bangladesh Embassy at Hejo in Thimphu. She extended an invitation to the King and Queen and to Prime Minister Tobgay to visit Bangladesh.

Related Links: