LPAI Foundation Day Reaffirms India's Commitment to Boosting Land Borders
8 March 2016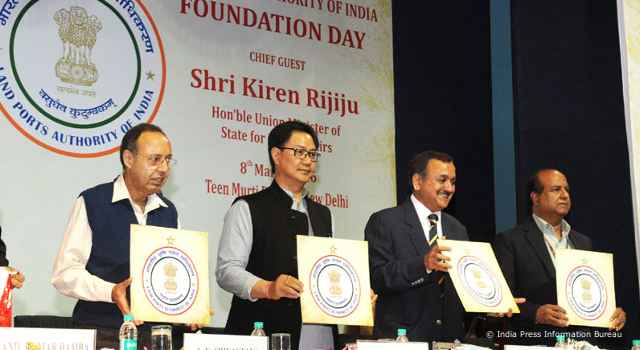 The Land Ports Authority of India (LPAI) commemorated its 4th Foundation Day on 8 March 2016 in New Delhi, India, headed by Mr. Kiren Rijiju, Minister of State for Home Affairs who launched the LPAI logo and website.
In his address, Mr. Rijiju reaffirmed the Government's commitment to enhance land borders that will increase trade with neighboring countries, which is vital to India's development and prosperity. He remarked on the need to explore new trade routes, particularly in the North East region. The Union Government's 'Bharat Mala' initiative will improve connectivity at the borders by building highways and road infrastructure.
The LPAI, established on 1 March 2012, is mandated to manage border crossing points on India's land borders. It is tasked with the planning, developing, constructing, managing and maintaining of integrated check posts (ICPs). Mr. Anup Kumar Srivastava, Secretary, Department of Border Management, described the ICPs under development by the LPAI as a 'game changer.'
Mr. Y.S. Shahrawat, Chairman, LPAI, added in his welcome address that ICPs at Raxaul on the Nepal border and Moreh on the Myanmar border will be commissioned soon.
Other responsibilities of the LPAI include regulating functions of various agencies working at the check posts, coordinating among the ministries and departments of the Government of India, and other agencies to regulate the entry and exit of passengers and goods and establish necessary service facilities.
Related Links: