Nepal Prime Minister Koirala Emphasizes Importance of Regional Cooperation to Nepal's Foreign Policy
18 February 2015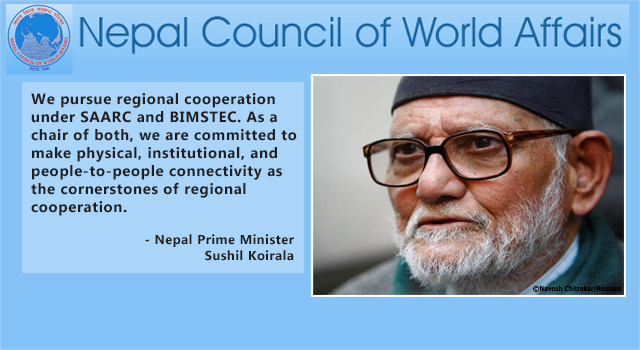 Nepal Prime Minister Sushil Koirala emphasized Nepal's strong engagement in the process of regional cooperation—through membership in the South Asian Association for Regional Cooperation (SAARC) and Bay of Bengal Initiative for Multi-Sectoral Technical and Economic Cooperation (BIMSTEC)—as "a major defining feature" of Nepal's foreign policy in a speech delivered at the 67th anniversary of Nepal Council of World Affairs on 18 February 2015.
Highlighting Nepal's commitment toward strengthening cooperation in the region through its membership and current chairmanship of SAARC and BIMSTEC, he discussed the re-energized process of regional cooperation in South Asia sparked by the 18th SAARC Summit held in November 2014 in Kathmandu. Initiatives signed during the Summit, including the Framework Agreement on Energy Cooperation, mark the region's increasing focus toward cooperation for peace and prosperity. Complementary to this, Prime Minister Koirala sees further collaboration on energy and connectivity by harnessing links between SAARC and ASEAN through BIMSTEC.
Regional organizations, according to Prime Minister Koirala, have "potential and capacity to uphold regional peace, stability, and security, and are important reservoirs of ideas, trade, connectivity, services and technology."
In his discussion of Nepal's foreign policy, the Prime Minister said that Nepal's priority begins with its neighbors India and China—relationships that provide a solid foundation for future collaboration and partnership for mutual benefit. The relationship between Nepal and India has recently gained new momentum with India's neighborhood policy and Prime Minister of India Narendra Modi's visits to Nepal in 2014. The Conclusion of Power Trade Agreement (PTA) and Power Development Agreements (PDAs) demonstrate the increasing mutually beneficial cooperation between the two countries.
Nepal is also a member of the South Asia Subregional Economic Cooperation (SASEC) program, an Asian Development Bank-supported initiative, that brings together Bangladesh, Bhutan, India, the Maldives, Nepal, and Sri Lanka in a project-based partnership to promote regional prosperity by improving cross-border connectivity, boosting trade among member countries, and strengthening regional economic cooperation.
Related Link: