Myanmar and Nepal's Friendly Ties
20 October 2019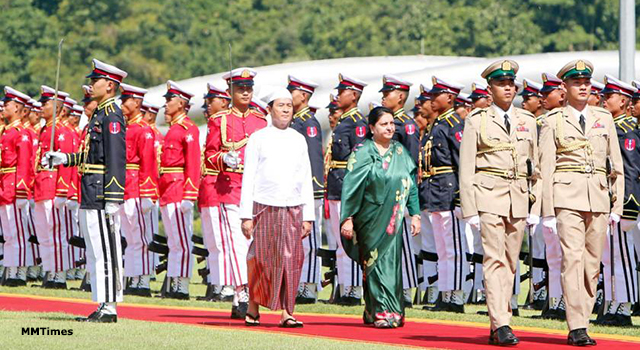 Myanmar and Nepal are planning to celebrate the 60th anniversary of the establishment of their diplomatic relations in 2020 with various programs and events in the two countries. This upcoming milestone was highlighted in the bilateral talk between Nepal President Bidya Devi Bhandari and Myanmar President U Win Myint in Nay Pyi Taw, Myanmar. President Win Myint invited the Nepal President for a friendly state visit on 16-20 October 2019. During their meeting, the two Presidents also reviewed the state of Myanmar-Nepal relations, and discussed how to expand and further strengthen the ties between the two countries.
Mrs. Aung San Suu Kyi, State Counsellor of Myanmar, also called on President Bhandari. They lauded the excellent state of relations and underlined the need to strengthen bilateral relations, focusing on trade, investment, tourism, and cultural exchange. They also discussed mutual international and regional matters.
The President of Nepal also attended a talk on "Myanmar-Nepal Friendship and Business Opportunities" organized by the Myanmar-Nepal Friendship Association and Myanmar-Nepal Chamber of Commerce. Mr. Pradeep Kyumar Gyawali, Minister for Foreign Affairs of the Government of Nepal, urged the business community of both countries to promote bilateral trade, investment, and tourism.
Related Links: