Indian High Commissioner to Bangladesh Emphasize Resolving Existing Barriers to Trade through Discussion
18 March 2019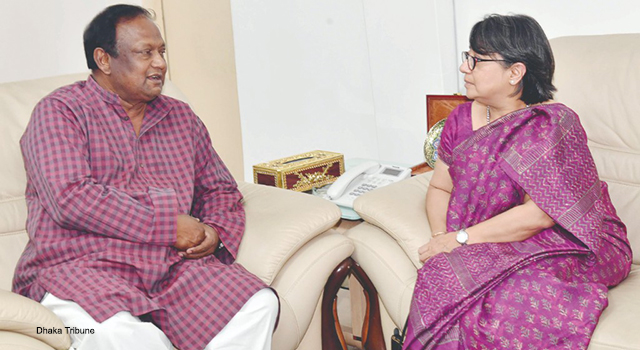 Ms. Riva Ganguly Das, the newly-appointed Indian High Commissioner to Bangladesh, paid a courtesy call to Mr. Tipu Munshi, Commerce Minister of the Government of Bangladesh. She expressed her admiration toward the remarkable changes in Bangladesh and its rapid progress.
The meeting discussed increasing bilateral trade between the two neighboring countries. Mr. Munshi noted Bangladesh's plan to increase export of ready made garments to the Indian market by identifying issues and taking appropriate measures to resolve them. He also highlighted the India-Bangladesh "border haats" (border markets), which are warmly received and continue to benefit citizens of both countries. There are currently four border haats in operation. According to Mr. Munshi, six more haats are being planned.
Ms. Das emphasized that Bangladesh and India trade has huge scope for expansion, and both countries must tap its potential. According to her, there is good demand for many Bangladeshi products in the Indian market. Existing barriers to trade between their countries will be solved through discussion.
She added that necessary measures would be taken to ease business between India and Bangladesh.
Related Links: