WCO-ADB Joint Subregional Train-the-Trainer Workshop on Customs Valuation
3-7 Feb 2014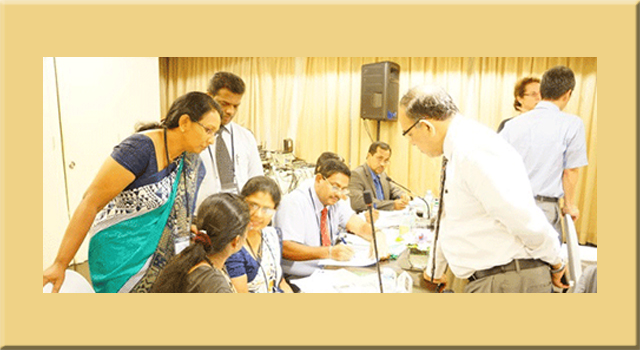 This five-day joint subregional workshop was designed to support participating countries' efforts to strengthen efficient management of customs valuation through use of post clearance audit (PCA). Robust implementation of PCA is requested of all contracting parties to the Revised Kyoto Convention, through Chapter 6 of the General Annex, and helps ensure both effective trade facilitation and the proper collection of national revenue.
The workshop was closely aligned with the goals of the South Asia Subregional Economic Cooperation (SASEC) Program and falls under the activities of the SASEC Trade Facilitation Strategic Framework 2014-2016. ADB and the World Customs Organization, Asia Pacific Regional Office for Capacity Building (WCO-ROCB A/P) developed a multi-year assistance project for SASEC countries to help enhance their respective customs valuation systems, under which the Colombo workshop was the first subregional event. The primary aims were to (i) establish a pool of national experts for sustainable development on valuation control ideally through PCA; and (ii) discuss next steps for implementing PCA.
Workshop sessions included:
Review of the World Trade Organization Valuation Agreement;
Case studies on Valuation;
Review of effective valuation control through PCA;
Case introduction of PCA; and
Identification of necessary national steps to implement or enhance PCA.
Mr. Jagath P Wijeweera, Director General of Sri Lanka Customs, Ministry of Finance and Planning opened the workshop. A total of 17 participants from 6 customs administrations of Bangladesh, Bhutan, India, the Maldives, Nepal, and Sri Lanka participated, together with 7 additional participants from the host country Sri Lanka. The workshop was facilitated by experts from the WCO-ROCB A/P, and WCO-accredited experts on customs valuation from the Customs of Japan, the Maldives Customs Service, and Sri Lanka Customs.
Delegations created draft national action plans to enhance management of customs valuation and agreed broadly on the next steps, including the holding of national workshops (where possible) and a second subregional workshop on customs valuation, to be conducted in October 2014 in Male, the Maldives.
In addition, in order to ensure that the benefit of this multi-year train-the-trainer initiative will benefit not only participants but also a wider base of personnel in their customs administrations, it was strongly recommended that
participants report to senior management in their respective Customs administrations the outcomes of the Colombo Workshop;
disseminate information and materials acquired in the workshop to relevant senior management, sections, divisions, and colleagues in respective customs administrations; and
report back to WCO-ROCB A/P on follow-up activities conducted, to be shared with other trained participants as good practices and lessons learnt.
The workshop was organized by ADB and funded by AusAID.