7th Bhutan-Bangladesh Commerce Secretary-level Meeting Explores Promotion of Trade and Commerce
12 February 2019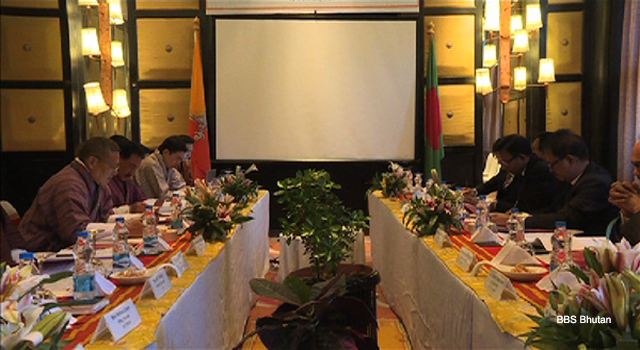 Mr. Md. Mofizul Islam, Secretary, Ministry of Commerce of the Government of Bangladesh, and Mr. Yeshi Wangdi, Secretary of the Ministry of Economic Affairs of the Government of Bhutan headed the delegations of Bangladeshi and Bhutanese government officials at the 7th Bhutan-Bangladesh commerce secretary-level meeting held in Thimphu, Bhutan.
The meeting exchanged ideas and explored new areas of cooperation for the promotion of trade and commerce. Outcomes included

Discussion of issues hindering growth of trade, investment, and tourism;
Review of progress on (i) the Agreement on Trade and Transit between India and Bhutan, and (ii) the Memorandum of Understanding on Inland Waterways, signed during Bangladesh Prime Minister Sheikh Hasina's visit to Bangladesh in April 2017
Review of status of decisions taken at the commerce secretary level meeting in 2018, which includes Bhutan's request for duty-free access to 16 additional products, cooperation between trade associations of both countries, deeper cooperation in tourism, and Bilateral Preferential Trade Agreement.
Mr. Islam underlined the need to establish infrastructure to facilitate trade and communication and enforce mutual recognition of standards. He said that both countries must identify ways to further bilateral trade, and noted that lack of knowledge in the private sector of the two countries could be a reason for the relatively small and limited bilateral trade volume.
Tapping Bhutan's hydropower potential was also discussed. Mr. Islam remarked on the need to expedite and boost trilateral cooperation on hydropower, as maximizing Bhutan's hydropower will benefit the entire region.
Mr. Wangdi emphasized the importance of Bhutan's trade with Bangladesh, and similarly expressed the need for both countries to work closely to boost trade. He commended Bangladesh on its economic transformation, which Bhutan also stands to gain from.

Related Links: