Maldives-Sri Lanka Similarities Make it Easier to Do Business
4 February 2019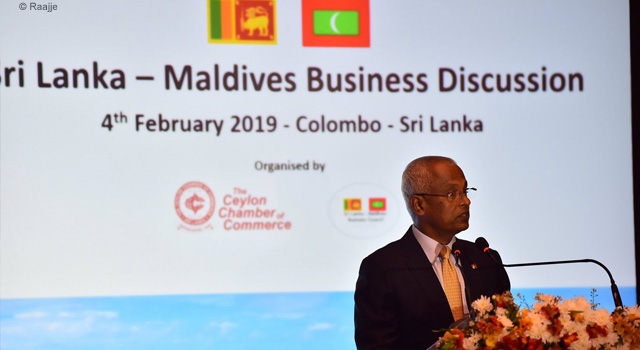 President Ibrahim Mohamed Solih, Maldives, said Sri Lanka's similarities with Maldives make it easier for the two countries to do business with each other. President Solih was speaking on 4 February 2019 during an official visit to Sri Lanka. Sri Lanka has always welcomed Maldivians, he said, and that the two countries share similarities in language, customs, and cuisine.
He said Maldives is committed to encouraging foreign investments. He noted how trade with Sri Lanka has prospered in the last two decades, and encouraged Sri Lankans to strengthen business partnerships with Maldives to fully realize the free flow of goods, people, and commerce in the region.
The fruits of economic growth from increased trade should be distributed throughout Maldives, said President Solih. He said this could be achieved by building up infrastructure and human resources and by ensuring increased connectivity between the capital Malé and the country's dispersed atolls.
Related Link: