Improvements in Cross-border Trade Lauded in CBIC's International Customs Day Celebration
25 January 2019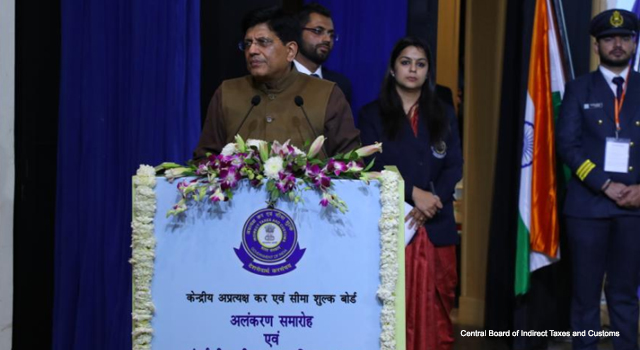 India's momentous leap to rank 77 in the World Bank's Ease of Doing Business rankings was highlighted at the International Customs Day celebrations of the Central Board of Indirect Taxes and Customs (CBIC). In his address, Chief Guest Mr. Piyush Goyal, Minister of Finance, Government of India, congratulated the CBIC for their efforts to help improve India's rank on the "Trading Across Borders" metric – jumping from 146 in 2018 to 80 in 2019, an achievement that enabled India to take the quantum leap to rank 77 in 2019 from rank 130 in 2017 in the Ease of Doing Business.
Recounting the year that was, Mr. Pranab Kumar Das, Chairman, CBIC, emphasized the agency's drive to enhance trade facilitation to improve the overall efficiency of cross-border clearances. He noted that the theme of the year for International Customs' Day – "Smart borders for seamless trade, travel, and transport" – reverberates with the various reform measures that Customs have initiated. He recounted measures undertaken to reduce transaction time and costs of import and export clearance, including
Mandatory filing of import declaration within a specified time;
Introduction of eSanchit on ICEGATE, a paperless process of uploading documents for clearance consignments; and
Implementation of electronic sealing for containers by exporters under a self-sealing procedure. According to the Chairman, this strengthened the existing Risk Management System and created a trust-based environment using tamper-proof e-seals in place of physical seals. This has also reduced the time associated with the clearance of export containers.
According to Mr. Das, "reform measures are being closely monitored at the highest level, under the aegis of National Trade Facilitation Action Plan 2017-2020," quoted a report. He also lauded cooperation between Customs and other border agencies and stakeholders on their joint efforts to remove bottlenecks through policy and procedural interventions, bringing down cargo release time. He noted the importance of inter-ministerial cooperation in launching trade facilitation measures, such as the single window, active participation by the industry, and regular monitoring through time release studies in effecting "significant and positive changes" that may have made an impact in the perception of trade and international analysts.
Related Links: