Private Sector Urged to Tap into Bangladesh-Nepal's Full Trade Potential
27 January 2019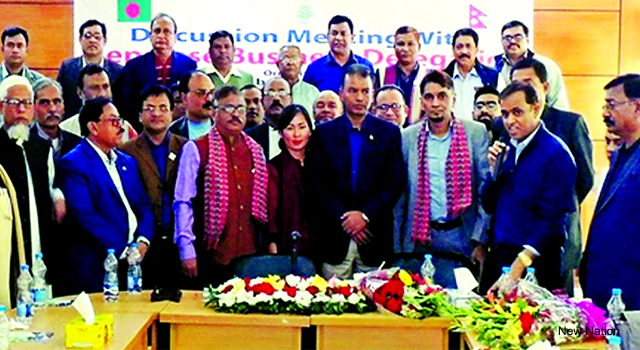 The Rangpur Chamber of Commerce and Industry (RCCI) hosted a discussion on exploring Bangladesh-Nepal trade potential, with Bangladeshi importers and exporters, industrialists and businesspersons, and an 11-member Nepalese business delegation. The meeting, chaired by Mr. Mostafa Sohrab Chowdhury Titu, President, RCCI, discussed prospects and barriers in bilateral trade between Bangladesh and Nepal.
Mr. Dhan Bahadur Oli, acting Nepalese ambassador to Bangladesh, was present in the discussion. In his address, he urged business leaders of Bangladesh and Nepal to take advantage of enormous prospects in bilateral trade and commerce. He highlighted the excellent historical, political, cultural and diplomatic relations between both nations, and invited them to further strengthen relations in bilateral trade and many other fields. He also advised that there is huge opportunity for Nepal's wheat, ginger, spices, pulses, herbal products, and hydroelectricity in Bangladesh, while Bangladesh's products, such as raw materials for industries, chemical components, ready-made garments, jute and jute goods and foods and drinks, have a market in Nepal.
Mr. Mostoba Hossain Ripan, senior vice-president, RCCI, stressed the need to enhance bilateral trade between the two neighbors and remove hurdles, such as tariff barriers for Bangladeshi export goods. He stated that improving the facilities and infrastructure of the Kakarbhitta dry port in Nepal, and establishing a transshipment yard, would ensure best use of the Banglabandha-Fulbari-Kakarbhitta route for export-import activities. He also noted the need to simplify the third party trade via India, establish rail communication between Nepal and Bangladesh and air connectivity between Syedpur and Biratnagar airports, and a Nepalese Visa Center at Rangpur to enhance bilateral trade.
Related Link:
Nepalese Envoy Calls for Exploring Prospects in Bilateral Trade