Inland Waterways to Strengthen Connectivity Between India and Southeast Asia
14 January 2019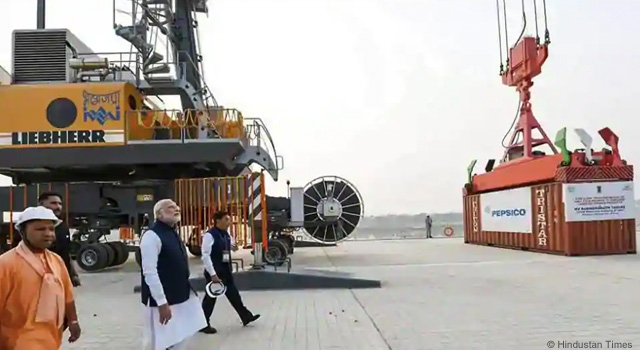 India is working to develop its inland waterways to increase economic connectivity with Southeast Asia. The project will connect India's northeastern states with Bangladesh and Nepal and boost trade in the region as part of India's Act East Policy, said India's Ministry of Shipping. The Ministry gave a presentation on its waterways projects before India's Fifteenth Finance Commission, on 2 January 2019.
Bangladesh and India signed the Protocol on Inland Water Transit and Trade (PIWTT) back in 2015, which would give vessels from the two countries access to selected waterways. The two countries have agreed to develop the 309-kilometer Zakiganj-Ashuganj stretch of the Kushiyara river and the 146-kilometer Sirajganj-Daikhowa stretch of the Jamuna river.
The Sirajganj-Daikhowa section can facilitate connectivity between the Ganga and Brahmaputra rivers and allow larger vessels to pass through Bangladesh from Varanasi in Uttar Pradesh to Sadiya in Assam, India. India is developing National Waterway-1 (Ganga river) as part of its Jal Marg Vikas Project, funded by the World Bank.
Bangladesh and India also signed in October 2018 an agreement for passenger and cruise services and an agreement to use Mongla and Chattogram (formerly Chittagong) ports in Bangladesh for transporting goods to and from India.
In Myanmar, India is developing the Kaladan Multimodal Transit Transport Project to connect Haldia and Kolkata in India to Myanmar's Sittwe Port.
Related Link: