ECTS to be Implemented on Nepal-bound Cargo Transiting via Kolkata/Haldia
28 January 2019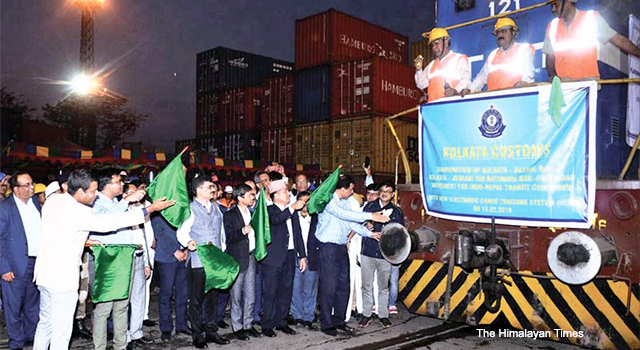 The Electronic Cargo Tracking System (ECTS) will be rolled out on pilot basis to facilitate the movement of Nepal-bound cargo transiting through the following routes: (i) Kolkata/ Haldia (India)-Birgunj (Nepal) by rail through the Raxaul Land Customs Station (LCS) and (ii) Kolkata/Haldia-Jogbani LCS to Bathnaha by rail, onwards to Biratnagar (Nepal) by road. This update is in response to the Government of Nepal's request to the Government of India for privileges to move cargo via Kolkata/Haldia without need to seek permission and file transit declaration. This new transshipment procedure will be implemented beginning 15 February 2019, announced the Office of the Commissioner of Customs (Port) of the Government of India in a circular.
The Federation of Nepalese Chambers of Commerce and Industry (FNCCI) expressed appreciation for the upcoming implementation of the ECTS on the Kolkata/ Haldia routes.
Mr. Shekhar Golchha, Senior Vice President, FNCCI shared that implementation of ECTS will save importers both time and money. He related that consignment used to take at least a month to be delivered in Nepal. With the ECTS, it will take maximum four to five days to receive consignment delivery.
The Asian Development Bank (ADB), which is supporting the project under the South Asia Subregional Economic Cooperation (SASEC) Program, has selected Transecur Telematics Pvt. Ltd. as the Managed Service Provider for the pilot implementation.
The ECTS transshipment procedure was first implemented on Nepal-bound cargo via Visakhaptnam Port beginning 1 August 2018. It promotes paperless and seamless transshipment of cargo utilizing satellite positioning systems, cellular communications, radio frequency identification, electronic seals, and monitoring software.
Read the public notice for details on the new transshipment procedure.
Related Links: