Indian President: India and Myanmar Can Leverage on Each Others' Competencies
15 December 2018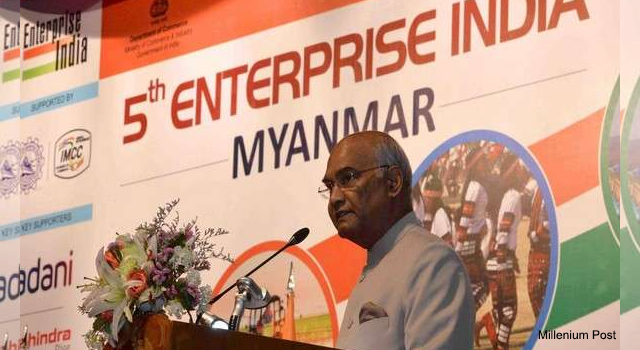 The Confederation of Indian Industry and the Embassy of Yangon in Myanmar organized the 5th Enterprise India – Myanmar on 13-15 December 2018 in Yangon, Myanmar. The expo brought the latest technology and industry innovations from India to Myanmar. Myanmar, strategically placed between South and Southeast Asia, is a key pillar in India's Act East Policy.
Indian President Ram Nath Kovind delivered the inaugural address. In his speech, he expressed delight in opening the show and the participation and presence of a high level business delegation from India, as well as the more than 50 companies present in the event.
Remarking on the relationship between India and Myanmar, President Kovind emphasized the two neighbors' abiding friendship, but admitted that their trade and investment partnership remains 'modest.' He reminded the participants of the many opportunities between the two nations, such as trade expansion, joint ventures, and bilateral investment, which can contribute to each others' growth and development.
President Kovind put forth that the two countries can leverage on each others' competencies – India as one of the world's fastest growing economies and Myanmar as a country seeking to transform its economy.
He noted India's efforts to enhance trade and tourism with Myanmar through improvements in connectivity and facilitation of land border crossings. He also commended Myanmar's decision to extend visas on arrival to Indian nationals arriving at Nay Pyi Taw, Yangon, and Mandalay. This would boost people to people exchanges and business ties, according to the Indian President.
Indian business are interested in investing in Myanmar's energy, agriculture, and service sector, said Mr. Vikram Misri, Indian Ambassador to Myanmar.
Related Links