India-Nepal Meeting on Energy Cooperation Discusses Potential LPG and LNG Pipelines
28 September 2018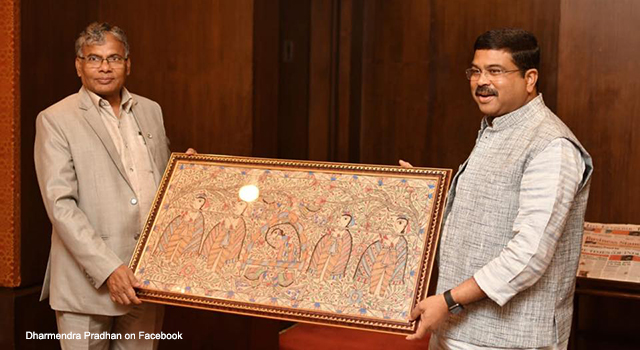 Mr. Dharmendra Pradhan, Minister for Petroleum and Natural Gas, Government of India, and Mr. Matrika Prasad Yadav, Minister for Industry, Commerce and Supply, Government of Nepal, held a bilateral meeting on 28 September 2018 in Kathmandu, Nepal, to discuss strengthening of energy and economic ties between the two countries.
The two Ministers' meeting

Reviewed India-Nepal energy cooperation comprehensively
Committed to the completion of the 69-kilometer oil pipeline from Motihari (Bihar, India) to Amlekhgunj (Nepal) at the earliest possible time; and
Agreed to explore potential liquefied petroleum gas (LPG) and liquefied natural gas (LNG) pipelines to supply fertilizer plants and industries in Nepal.
In a post about the bilateral meeting with Mr. Yadav, Mr. Pradhan reiterated the Government of India's continued commitment to help Nepal meet its complete hydrocarbon requirements.
Mr. Pradhan conducted a site visit to Amlekhganj during his two-day visit to Nepal to check on the progress of the oil pipeline. He estimated construction work to be finished within a year. He also called on Mr. Ishwor Pokharel, acting Prime Minister of Nepal, Mr. Ram Bahadur Thapa, Minister for Home Affairs, and President Bidya Devi Bhandari.

The Motihari-Amlekhgunj oil pipeline, committed by the two Governments in 2015, is being developed by the Government of India to provide Nepal with an efficient and environment-friendly source of petroleum. Once built, the pipeline is estimated to resolve Nepal's dependency on tanker trucks and bring the country annual savings worth around Rs 2 billion. According to a report, diesel and cooking gas accounted for 80% of the total fuel import bill of Rs 170 billion (around $26.9 million) in the last fiscal year.

Related Links: