India, Nepal Exchange MoU on the Raxaul-Kathmandu Railway Survey
31 August 2018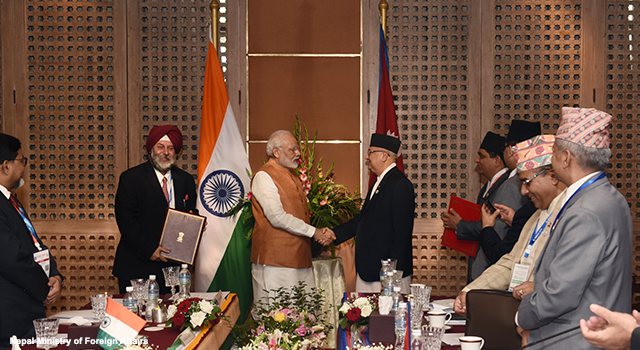 The Governments of India and Nepal exchanged the memorandum of understanding on preliminary engineering-cum-traffic survey on the broad gauge line between Raxaul, India, and Kathmandu, Nepal on 31 August 2018. Mr. Manjeev Singh Puri, Indian Ambassador to Nepal, and Mr. Madhusudan Adhikari, Secretary, Ministry of Physical Planning and Works, Nepal, signed the MoU in the presence of India Prime Minister Narendra Modi and Nepal Prime Minister KP Sharma Oli on the sidelines of the fourth BIMSTEC Summit.
The Agreement allows India to conduct a survey of the broad gauge railway line that will link Bihar's Raxaul city to Nepal. The Konkan Railway Corporation, a Union Government Company, will carry out the feasibility study. Mr. Ananta Acharya, Director General of the Government of India's Department of Railways, noted the plan to complete the study within the next four months.
Prime Minister Modi and Prime Minister Oli reviewed India-Nepal relations in their bilateral meeting. They discussed ways to further deepen bilateral economic, trade, and cultural ties, and connectivity between India and Nepal.
Related Links: