Bangladesh Prime Minister Hasina and Nepal Prime Minister Oli to Take Energy Cooperation to the Next Level
31 August 2018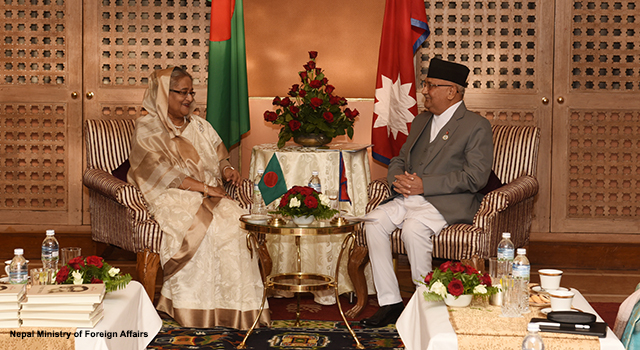 Bangladesh Prime Minister Sheikh Hasina and Nepal Prime Minister KP Sharma Oli met on the sidelines of the Fourth BIMSTEC Summit in Kathmandu, Nepal and agreed to take Bangladesh-Nepal cooperation in the energy sector to the next level.
Mr. Ihsanul Karim, Bangladesh Press Secretary, reported that the two Prime Ministers discussed enhancing cooperation in the power sector, including Bangladesh's plans to import electricity from Nepal. They also agreed on the need to sign a memorandum of understanding to enable power trade.
Prime Minister Hasina and Prime Minister Oli also discussed boosting bilateral trade and investment. Prime Minister Oli urged Nepal and Bangladesh to explore further opportunities for cooperation in different sectors. Prime Minister Hasina offered landlocked Nepal access to the seaports of Bangladesh and the Syedpur airport.
Related Link: