Indian Hydropower Firm to Sign Power Purchase Agreement with Bangladesh
14 August 2018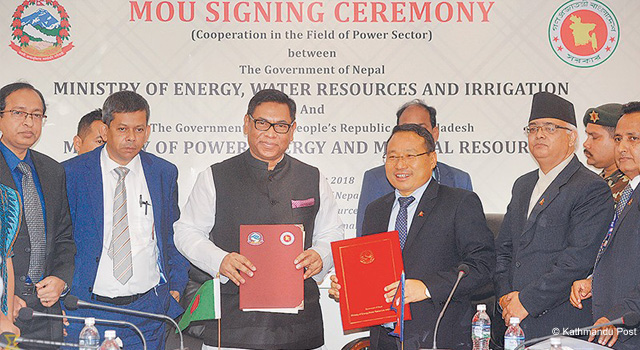 Private Indian company GMR Upper Karnali Hydropower Ltd. is set to sign a power purchase agreement (PPA) with the Bangladesh government to export electricity to be generated by the Upper Karnali Hydropower Project in Nepal, which is currently under construction. GMR will be exporting up to 500 MW of electricity to Bangladesh under the PPA. The hydropower project will have a 900-MW capacity.
GMR and the Bangladesh Power Development Board (BPDB) have agreed to the commercial terms of the agreement. The agreement will have to pass through other Bangladesh government bodies and could be ready for signing in four months.
The PPA will serve as a guiding framework for Nepal for exporting surplus electricity to Bangladesh. Bangladesh intends to purchase electricity from its neighbors to sustain its growing economy.
Nepal and Bangladesh earlier this August signed a cooperation agreement for exploring electricity trade with each other. In April 2017, Bangladesh Prime Minister Sheikh Hasina signed the memorandum of understanding allowing BPDB to import electricity from the Upper Karnali project through the Indian power grid.

Related Link: