Dhaka-Chittagong Expressway Prepared for PPP
4 July 2014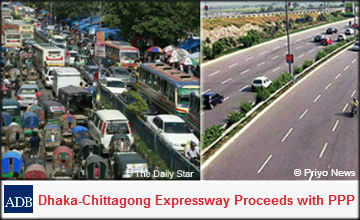 The Government of Bangladesh recently concluded arrangements for a joint venture to prepare the detailed design of the existing two-lane Dhaka-Chittagong highway that will be developed into a six-lane freeway to provide badly-needed additional road capacity. The Asian Development Bank (ADB)-financed Dhaka-Chittagong Expressway Public-Private Partnership (PPP) Design Project will assist the Government of Bangladesh to prepare detailed engineering design documents and select an appropriate PPP financing scheme for this initiative. Snowy Mountains Engineering Corporation International of Australia, Oriental Consultants of Japan, Castalia Ltd of New Zealand and ACE Consultants of Bangladesh are the firms in the joint venture.
ADB is funding the project through a $10 million loan, with the Government of Bangladesh contributing $2.5 million in cofinancing. Completion is expected in 2023, depending on private sector financing. Preparation of the Dhaka-Chittagong Expressway is timely with recent high-level intergovernmental agreements improving access to Chittagong Port for Bhutan, India, and Nepal.
Dhaka and Chittagong are the two major metropolitan areas of Bangladesh – Dhaka is the main commercial center and administrative capital of the country, while Chittagong is the primary seaport through which pass about 90% of imports and exports. The current two-lane highway between the cities is already congested with average daily traffic of about 20,000 motorized vehicles in 2004, which has doubled in recent years. According to Roads and Highways Department forecasting, this is likely to cross a daily threshold of 70,000 by 2023.
Up to 60% of the vehicles carry goods, taking 10 hours or more to complete the 250-kilometer highway. Challenges for trade include fuel wastage, long work hours, and shipment delays due to long queues on the highway. Road safety is also poor due to severe congestion and different types of vehicles. Although Dhaka and Chittagong are linked by air and inland waterways, road and railway links handle the bulk of passenger and high-value cargo traffic in this corridor – despite both modes currently facing serious bottlenecks.
Development of the detailed engineering design documents will benefit from the findings of an earlier ADB-financed study completed in 2008, which produced a pre-feasibility study and conceptual design for an access-controlled Dhaka-Chittagong Expressway. Although the study concluded that the route alignment selected is viable, the government was unable to attract private investment at the time. The Dhaka-Chittagong Expressway PPP Design Project will now provide a feasibility study with different route alignment options, detailed engineering design for the selected option, economic and financial analysis for the follow-on project, structuring of the PPP, and capacity development.
Related Links:
ADB Project Data Sheet: Dhaka-Chittagong Expressway Public-Private Partnership Design Project