India, Myanmar Open International Border Checkpoints
8 August 2018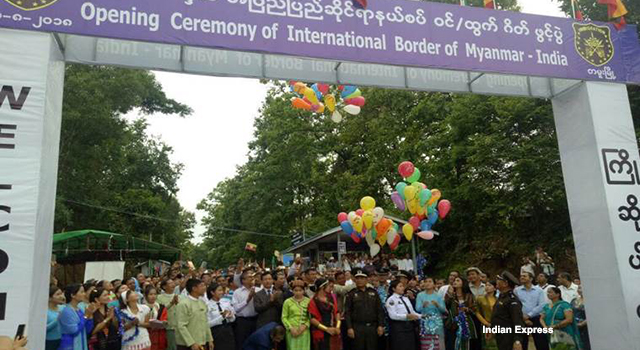 The Governments of India and Myanmar have implemented the Land Border Crossing Agreement on 8 August 2018. This occasion was marked by the simultaneous opening of the Tamu (Myanmar)-Moreh (India) and Rihkhawdar (Myanmar)-Zowkhawtar (India) international border checkpoints. Mr. U Aye Lwin, Permanent Secretary, Ministry of Labor, Immigration, and Population, Government of Myanmar, and Dr. Suhel Akhtar, Additional Chief Secretary, Government of Manipur, India, led the Myanmar and India delegations at the ceremony in Tamu.
Signed on 11 May 2018, the opening of the India-Myanmar land border crossings allows people from both countries and third countries holding valid passports and visas to cross the border and travel to any point of Myanmar or India. Residents living near the borders retain their right to cross the border using their border passes.
Mr. Nandan Singh Bhaisora, Consul General of India in Myanmar, underscored how this historic event strengthens the relationship between India and Myanmar. Calling it a "giant step in bilateral relations and the Act East policy," the Consul General noted that the implementation of the Agreement promises to enhance border trade and increase movement of people and cultural exchange.
The opening ceremony was followed by a tour of the Integrated Check Post facilities in Moreh and a tour of the Immigration Check Post at Rihkhawdar. These border check posts will facilitate travel through the land border crossings.
Related Links: