Workshop Highlights India's Energy Connectivity Initiatives with Neighbors in the Region
3 August 2018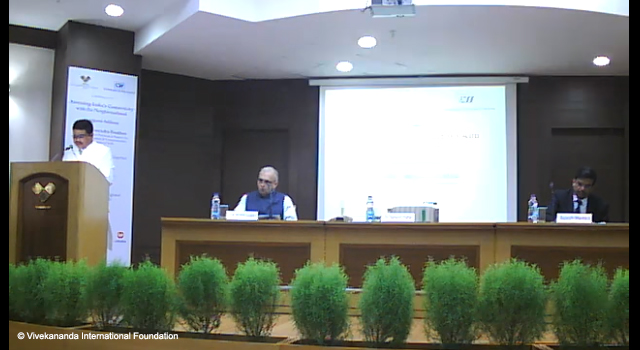 The Confederation of Indian Industry and the Vivekananda International Foundation (VIF) jointly organized the conference "Assessing India's Connectivity with its Neighborhood." The conference discussed energy connectivity, and land, river and oceanic connectivity, together with experts in the field and stakeholders in the region.
In his Welcome Remarks, Dr. Arvind Gupta, Director, VIF, emphasized the conference's aim to assess the current status of India's connectivity with its neighbors to discuss what is needed to improve connectivity in the region, particularly in the context of the South Asian Association for Regional Cooperation (SAARC), Bay of Bengal Initiative for Multi-Sectoral Technical and Economic Cooperation (BIMSTEC), and Bangladesh-Bhutan-India-Nepal (BBIN) frameworks. Dr. Gupta underscored need for political will among various nations, careful and consistent consultation among partners, efficiency in project design, and openness and transparency in implementation, to foster connectivity. With challenges to be expected in connectivity projects, such as funding, the Director noted that private-public partnerships can play a very important role in increasing connectivity in the region, as well as application of latest and modern technologies and project management skills.
Mr. Dharmendra Pradhan, Minister of Petroleum and Natural Gas, and Skill Development and Entrepreneurship, delivered the Inaugural Address. In his speech, he stressed the importance the Government of India has placed on enhancing connectivity in the region, particularly in the transportation, trade, commerce, and energy sectors, through platforms including the BIMSTEC forum, the BBIN initiative, and the IMT (India-Myanmar-Thailand) Trilateral Highway.
The Minister highlighted how India, under Prime Minister Narendra Modi, is promoting energy connectivity with its neighbors:
In Bangladesh, India is working together with the Government to build interconnecting gas grids and pipelines for diesel supply. Petronet is also considering building a 7.5 million ton/year liquefied natural gas (LNG) import terminal. To provide energy access to the northeast region of India, there are plans to export liquefied petroleum gas (LPG) to Bangladesh, and re-export to the northeast region by road or pipeline.
In Bhutan, India supplies 100% of the country's petroleum product requirements, and is considering extending LPG coverage to the whole population by sourcing from refineries in Assam.
In Myanmar, the Indian Oil Corporation is working with companies to set up LPG storage facilities, while Petronet LNG is planning to set up an LNG terminal. A natural gas pipeline running from Numaligarh (India) toward Sittwe (Myanmar) is planned under the "Hydrocarbon Vision 2030" for India's northeast region. This gas pipeline project promises to unlock potential gas exchange and grid connectivity in the region.
In Sri Lanka, India is jointly developing an oil storage tank farm in Trincomalee, and working on setting up an LNG terminal and a 500-megawatt LNG-fired power plant near Colombo. Sri Lanka is also considering a proposal to set up a 50 MW solar power plant at Sampur.
In Nepal, India supplies 100% of the country's petroleum product requirements through trucks. A pipeline is being constructed to enhance the supply process. The two countries are also discussing a pipeline for LPG and natural gas, and a free cooking gas connection scheme using LPG to help the poor.
On regional initiatives in energy connectivity, Mr. Pradhan highlighted the abundance of energy resources in the BIMSTEC region. According to the Minister, with the energy demand-supply sectors in Bangladesh, Bhutan, India, Myanmar, Nepal, Sri Lanka, and Thailand offering a potential for regional resource cooperation, the countries could go beyond export-import trade relations. The region can be linked in a Bay of Bengal Energy Community, contributing to the process of regional integration.
Mr. Pradhan urged stakeholders in South Asia to tap into opportunities for cooperation and trade in the energy sector. He called for a well-defined integrated transmission line, adequate promotion of energy trading, focus to ensure energy security in the region, and enhanced opportunities in the power sector. With demand for electricity in South Asia growing at a rapid pace—in the BBIN subregion alone, the demand will increase three times within the next 15-20 years—it will be in the mutual interest of countries in the region to usher in an era of energy independence and security in South Asia and beyond.
Related Links: