MoU to boost Myanmar-Nepal Bilateral Consultation Signed
30 July 2018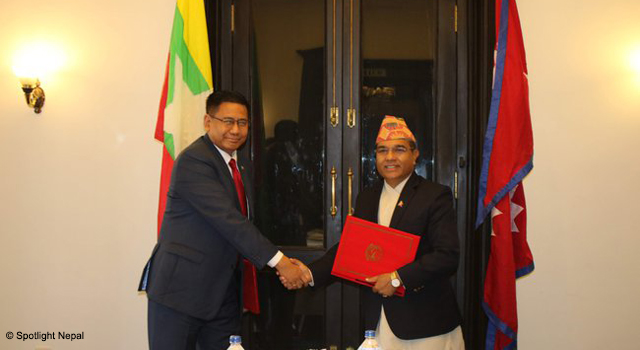 The Ministries of Foreign Affairs (MoFA) of Myanmar and Nepal have signed an MoU establishing a bilateral consultation mechanism on 30 July 2018 in Kathmandu, Nepal. Mr. Shanker Das Bairagi, Foreign Secretary, MoFA, Nepal, and Mr. U Myint Thu, Permanent Secretary, MoFA, Myanmar, signed on behalf of their countries. The first meeting reviewed bilateral relations, and discussed how to further strengthen relationship and boost cooperation between the two nations.
Delegations from both countries noted the huge potential for Myanmar-Nepal economic collaboration in trade, tourism, culture, and investment.
The Governments of Myanmar and Nepal also agreed to exempt diplomatic and official (special) passport holders from visa requirements. Mr. Tapas Adhikari, Join-secretary, MoFA, Nepal and Mr. Thiri Pyanchi U Tun Nay Lin, Ambassador of Myanmar to Nepal, signed this agreement.
Related Links: