Nepal's Dry Port Sees Growth in Imports
18 July 2018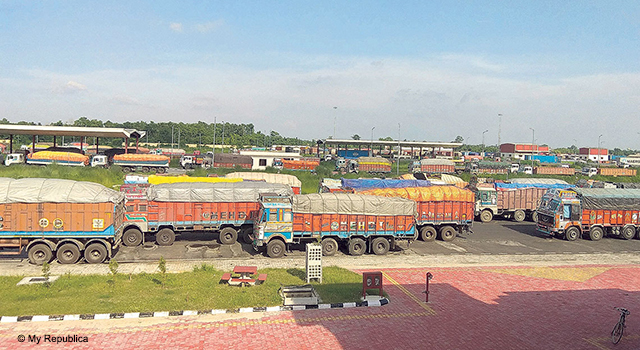 Nepal's third country imports is growing with more importers tapping railway cargo for transport, according to data from Nepal's Dry Port Customs Office. The Sirsiya Dry Port in Birgunj accommodated 25% more import cargo, or 41,641 containers, in Fiscal Year 2017-2018, compared to FY 2016-2017's 33,196 cargo. Major goods imported include plastic granules, liquors, newsprint, food grains, lubricants, automobiles and motor vehicles, electronic goods, soft drinks, sugary products, machineries and spare parts, ready-made garments, and raw materials for industries.
The Sirsiya Dry Port is close to the Indian border, with links to the Raxaul railway junction. It is the first and only rail-linked terminal in Nepal that facilitates third-country trade through India.
In exports, there was also a slight improvement. In FY 2017-2018, 1,620 containers carrying Nepalese goods were exported out of the country. This reflects a minimal increase from the 1,254 cargo exported in FY 2016-2017.
In bulk cargo, the Dry Port's performance fell by two rakes. In FY2017-2018, only 445 rakes utilized the Sirsiya Dry Port, compared to 447 rakes in FY2016-2017. Iron importers, a major sector that uses bulk cargo, prefer to use road transport to minimize delays.
The Dry Port Customs Office collected Rs 27.34 billion in revenue for FY 2017-2018. Revenue target was Rs 28.29 billion.
In total, the Birgunj Customs Office, which includes data from the Sirsiya Dry Port, collected Rs 161 billion in revenue for FY 2017-2018. This figure represents 98% of the target revenue set by the Government of Nepal.
Related Links: