Sri Lanka High Commissioner: Vision Offers Opportunities for Indian Businesses
20 June 2018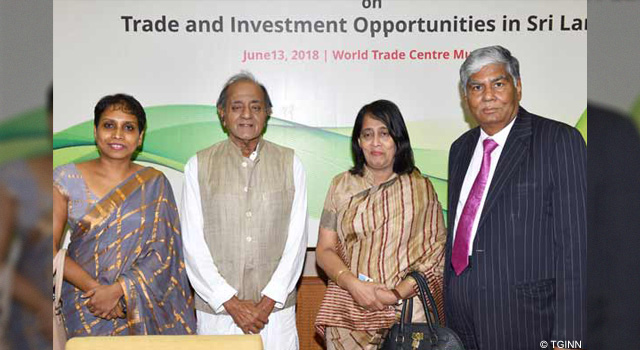 Ms. Chitranganee Wagiswara, high commissioner of Sri Lanka in New Delhi, India, urged Indian companies to take advantage of the ample business opportunities in Sri Lanka. She said Sri Lanka's Vision 2025 positions the country as an export-oriented economic hub at the center of the Indian Ocean.
Ms. Wagiswara was speaking at the Interactive Meeting on Trade and Investment Opportunities in Sri Lanka held on 13 June 2018 in Mumbai, India. Ms. Wagisara noted potential for cooperation in tourism through the promotion of India and Sri Lanka as dual destinations for travelers.
The Government of Sri Lanka aims to raise per capita income to $5,000 per year and create one million new jobs under the Vision 2025 agenda. The country also aims to raise foreign direct investment to $5 billion and double exports to $20 billion per year. The targets lay the foundation for Sri Lanka's push to become an upper-middle income country by 2025. Sri Lanka also continues its efforts to improve the ease of doing business in the country.
Ms. Chamari Rodrigo, consul general of Sri Lanka in Mumbai, India, said Sri Lanka's preferential market access and economic stability provide opportunities for investors in Sri Lanka. She invited Indian companies to look at the many investment opportunities available through the Western Region Megapolis Plan and the Colombo Port City Project.
The Colombo Port City Project aims to create an international financial center around Sri Lanka's Colombo Port, ranked the 13th best connectivity port in South Asia.
Related Links: