Chittagong Port Sees Steady Increase in Container Handling
9 July 2014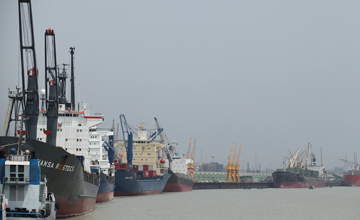 Bangladesh's Chittagong Port recorded a rise of 10.46% in container handling during fiscal year 2013-2014. As the country's premier seaport, it facilitates more than 92% of the country's import-export trade, and has handled a steadily growing amount of cargo since it was modernized. The 2013-2014 statistic counts as Chittagong Port's biggest growth in terms of cargo handled, as seen in the chart.
According to data from the Chittagong Port Authority (CPA), the port handled 1.62 million twenty equivalent units (TEUs) of containers during 2013-2014, up from 1.49 million TEUs in 2012-2013, and 1.34 million in 2011-2012.
The Asian Development Bank approved the Chittagong Port Trade Facilitation Project in October 2004 to increase the capacity of Chittagong Port's container terminal and upgrade its port security and environmental management to international standards. Among the project's primary objectives was fostering more international trade by offering lower shipping and port charges.
Related Links:
ADB Completion Report, Bangladesh: Chittagong Port Trade Facilitation Project
SASEC, Chittagong Port Trade Facilitation
The Financial Express, "Chittagong Port Handles Record Containers in 4 Years", July 6, 2014