India and Nepal Prime Ministers Vow to Strengthen Cooperation
12 May 2018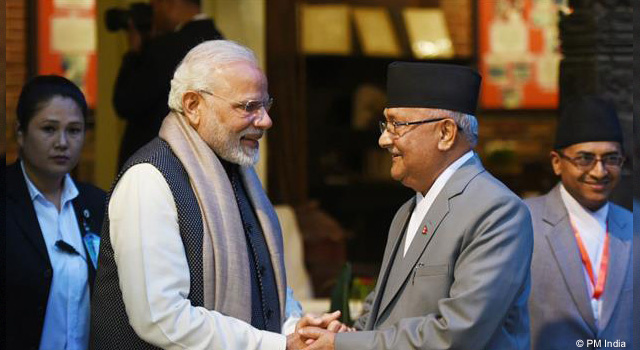 India Prime Minister Narendra Modi was in Nepal for a state visit on 11-12 May 2018 at the invitation of Nepal Prime Minister KP Sharma Oli. The meeting aimed to strengthen ties between India and Nepal and generate momentum for the implementation of agreements between the two countries.
The meeting is a follow up to Prime Minister Oli's visit to India in April 2018. Bilateral initiatives between India and Nepal include those in the areas of agriculture, railway linkages, and inland waterways development.
The two ministers stressed the importance of trade and economic ties, as well as regional and subregional cooperation under Bay of Bengal Initiative for Multi-Sectoral Technical and Economic Cooperation, South Asian Association for Regional Cooperation, and the Bangladesh-Bhutan-India-Nepal framework.
Prime Minister Modi and Prime Minister Oli agreed to take steps to further strengthen economic and physical connectivity by air, land, and water. They also jointly laid the foundation stone for Nepal's 900 megawatt Arun-III hydroelectric project, which would enhance power generation cooperation and energy trade.
Related Links: