Bangladesh-Nepal Commerce Secretary Meeting Agrees on Measures to Boost Trade, Transit, and Economic Cooperation
31 May 2018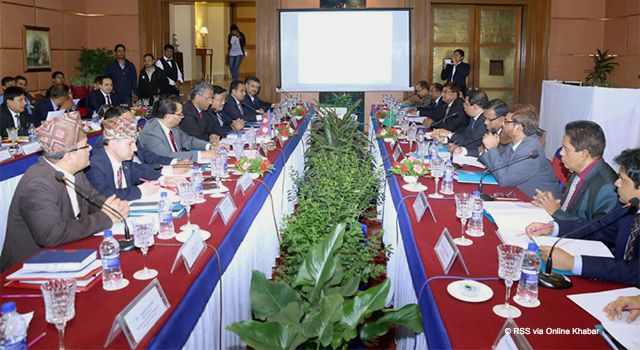 The fourth Bangladesh-Nepal Commerce Secretary Meeting on Trade, Transit, and Economic Cooperation was held on 30-31 May 2018 in Kathmandu, Nepal. The delegations were led by Mr. Shubhashish Bose, Secretary, Ministry of Commerce, Government of Bangladesh, and Mr. Chandra Kumar Ghimire, Secretary, Ministry of Industry, Commerce, and Supplies, Government of Nepal. The Meeting focused on enhancing bilateral trade and narrowing the trade imbalance between the two nations.
The Meeting
Reviewed progress on agreements made in the third Bangladesh-Nepal Commerce Secretary meeting;
Agreed to prioritize reviewing the revised draft of the operational modality for transit cargo, to be submitted by the Government of Nepal to the Government of Bangladesh;
Reviewed the proposed duty-free market access for 108 Nepali products in Bangladesh, and preferential market access for 50 Bangladeshi products in Nepal. Both sides agreed to revise their respective lists;
Committed to conclude the Bilateral Investment Promotion and Protection Agreement (BIPPA) at the earliest possible time. BIPPA will facilitate bilateral investment by ensuring necessary protection to investors of both countries;
Noted Nepal's request to Bangladesh to shift from an eight-digit HS Code to six-digit code to simplify the trade process. Bangladesh agreed to consider this request;
Agreed to review non-tariff barriers hindering growth of Nepal's key export products to Bangladesh;
Pledged to develop a Bangladesh-Nepal mechanism to address high tariff and other duties and charges for import/ export goods;
Agreed to consider a trilateral agreement between Nepal, Bangladesh, and India, to enhance transit through railways and inland waterways. Nepal will prepare this concept note;
Agreed to promote tourism packages in both countries;
Agreed to lay groundwork for establishment of air connectivity between Saidpur of Bangladesh and Bhadrapur or Biratnagar in Nepal to encourage business linkages between Nepal's eastern region and Bangladesh's northern region; and
Discussed Nepal's request for a visa-on-arrival for land and air entry points in Bangladesh on a reciprocal basis. The Government of Bangladesh agreed to address this issue as soon as possible.

Related Links: