Bangladesh-India-Nepal Conduct Trial Run for Bus Service
25 April 2018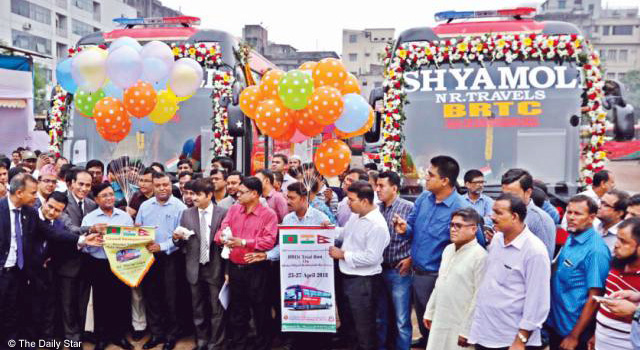 Bangladesh, India, and Nepal conducted a trial bus service run on 24-25 April 2018. Two buses left Dhaka, Bangladesh for Kathmandu, Nepal, carrying delegates from the three countries and the Asian Development Bank. The Bangladesh-Bhutan-India-Nepal Motor Vehicles Agreement signed by the countries in June 2015 enables the commercial bus service.
The route used for the trial run passes through Siliguri, India, and has a length of 1,200 kilometers. It is shorter by 100 kilometers compared to the Lalmonirhat-Burimari-Changrabandha-Siliguri route currently taken by travelers to Kathmandu.
The bus service will strengthen subregional connectivity and help tourists and entrepreneurs, including those who come to West Bengal for medical tourism.
The multicountry delegation will be filing a report to help draw up protocols for a regular and direct bus service between Dhaka and Kathmandu.
Related Links: