Bangladesh to Set Up a National Single Window for Trade Facilitation
20 April 2018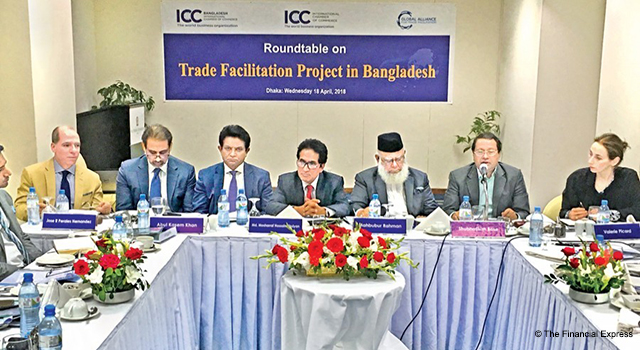 The Bangladesh National Board of Revenue (NBR) will act as lead agency for the planned National Single Window (NSW) for trade facilitation in Bangladesh, shared NBR Chairman Md. Mosharraf Hossain Bhuiyan. This initiative is another Government undertaking in line with the implementation of the World Trade Organization's (WTO) Trade Facilitation Agreement (TFA).
Mr. Bhuiyan, speaking at the Roundtable on Trade Facilitation Project in Bangladesh organized by the International Chamber of Commerce (ICC) in Bangladesh, in cooperation with ICC-Paris and the Global Alliance for Trade Facilitation (GATF), also promised businesses in the country that the agency will support businesses to achieve their export goal of $50 billion by 2021.
The WTO TFA, ratified by Bangladesh in September 2016, contains provisions for expediting the movement, release and clearance of goods, including goods in transit. It also sets out measures for effective cooperation between customs and other appropriate authorities on trade facilitation and customs compliance issues. It entered into force on 22 February 2017 following ratification by two-thirds of WTO members.
To date, the NBR has published all rules, regulations, and statutory regulatory orders on trade facilitation on the NBR website, noted Ministry of Commerce Secretary Shubhashish Bose. Pre-clearance signatures have also been reduced to 5 from 25. Export clearance time takes 3 hours from 72 hours in 1999. Customs aims to further lessen procedures and promote faster release time by automating processes.
The GATF, launched in December 2015 at the WTO's 10th Ministerial Conference, is supported by the Governments of Australia, Canada, Germany, the United Kingdom, and the United States. The ICC and GATF have trade facilitation projects in several countries, including Sri Lanka in South Asia. They plan to expand their trade facilitation projects to 15 more countries, including Bangladesh.
Mr. Jose R. Perales Hernandez, Deputy Director, GATF Washington; Ms. Valerie Picard, Deputy Director, GATF Paris; Mr. Mahbubur Rahman, President, ICC Bangladesh, and other stakeholders from the private sector were also present at the discussion.
Related Links: