ADB-GIZ Regional Workshop for Green Freight and Logistics
30 June 2014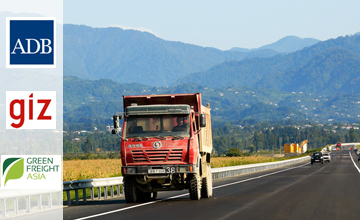 Over 100 participants gathered to discuss green freight and logistics at a regional training workshop organized by the Asian Development Bank (ADB) and Gesellschaft für Internationale Zusammenarbeit (GIZ). Green freight and logistics is a key area under ADB's Transport Community of Practice, which has been promoting and pursuing a Sustainable Transport Initiative since 2010. The workshop took stock of best practices and systematic approaches toward efficient logistics and green freight at different levels of governance and by actors from different sectors, and provided a platform to explore multiple initiatives currently being developed in Asia.
Specific objectives of the workshop were to:
discuss the potential and benefits of green freight policies in the region;

identify opportunities to develop into actions and projects;

agree on a broad work plan for national activities; and

identify training needs by target groups, forming a knowledge base to complement efficient logistics and green freight programs in the region.
As the Asia Pacific region moves forward to alleviate poverty and increase economic growth, the demand for freight and logistics is expected to grow rapidly. Freight and logistics consume a substantial amount of energy; in many countries, more than 40% with an equal share in CO2 emissions.
In his opening remarks, Mr. Ronaldo Antonio Butiong, Principal Regional Cooperation Specialist at ADB, noted that as freight movements increasingly cross borders and continents, unique opportunities are created for regional collaboration in the design and implementation of green freight programs, allowing countries to share experiences and learn from each other. He also emphasized ADB's support for both national and regional efforts toward sustainable transport development.
The workshop was held on June 25-27, 2014 in Singapore, with participants joining from ADB member countries and staff from ADB. Vice Minister for Transportation of Indonesia, Mr. Bambang Susantono delivered the keynote speech.
Related Links: