Interview: Better Quality and Competitive Prices to Help Bangladesh Grab Nepal Market
25 February 2018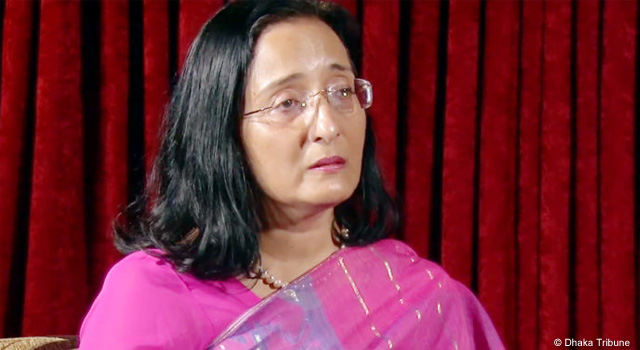 Bangladesh is looking to expand the market share of its goods in Nepal. Ms. Mashfee Binte Shams, Bangladeshi Ambassador to Nepal, reviews the opportunities for Bangladesh manufacturers and explains what her country is doing to promote its products in Nepal. This interview of Ms. Shams, conducted by Ibrahim Hossain Ovi, first appeared on Dhaka Tribune.
Better Quality and Competitive Prices to Help Bangladesh Grab Nepal Market
Nepal is a potential export market for Bangladesh. What are you doing to promote Bangladeshi products here?
Bangladesh's export to Nepal has gone up to $47 million in the last fiscal year. To promote our goods, we are organizing single-country expo, which has already created a buzz among the Nepalese about Bangladeshi products. The fourth edition of Bangladesh Expo in Nepal will be held on February 22. About 50 Bangladeshi companies will participate in it, which will help us grab more market share here.
Tell us about Nepal exports markets for Bangladesh.
Bangladesh and Nepal have a very good bilateral trade relation. Nepal imports about 90% goods to meet local demands. The market is dominated by India but Bangladesh has a big opportunity to grab market share. Consumer goods, plastic products, battery, construction materials, furniture, electronic goods including refrigerator, television and home appliance, motorcycle, melamine products, and footwear are being exported here.
What are the key challenges in exporting to Nepal?
There is higher tax on some of the products imported from Bangladesh. It is a big challenge [that] needs to be addressed properly to explore the market opportunity and to grab more market share. The Bangladesh embassy in Nepal is working with the business federation to find out a solution.
Another challenge is business people's misconception about the transportation of goods to Nepal. Business people are not interested in exporting due to their misconception about transporting goods through Indian territory. But the reality is different as one can use the Indian territory to send goods to Nepal.
Which product has great potential in the Nepal market?
There is huge opportunity for pharmaceutical products as doctors, who studied in Bangladesh, are prescribing Bangladeshi medicine. That's a major advantage. Since the market is fully import-dependent and Bangladesh has best quality medicine, the market would be saturated by our products very soon.
Besides, there is also huge demand of furniture in Nepal. Every month HATIL, a Bangladeshi manufacturer, ships a consignment here and it is sold instantly. PRAN consumers goods have reached the remote areas of Nepal.
Walton's electronics products have won the consumers. Its goods are distributed by about 200 dealers.
Why do you think Bangladesh exports will see a sharp rise in coming years?
The tranquility after the general election in the country will help boost business. The new government will concentrate on building the nation and undertake development projects to improve the living standard of the people. As a result, economic activities will increase and people's purchase power will go up. Bangladesh can take advantage as its products are becoming familiar to the consumers.
As Bangladesh is exploring market in Nepal, the export earnings will see a sharp rise.
Why do you think Bangladeshi manufacturers have potentiality in Nepal?
India has 70% share in Nepal's import-dependent market. Nepalese consumers as well as the business people are looking for an alternative. Since there is cultural and behavioral similarity in consumption, there is room to grow for Bangladeshi manufacturers, especially consumers goods and electronic products.
The better quality of Bangladeshi goods and competitive prices will help to grab Nepalese market share very soon.