India Pilots Container Train to Bangladesh
4 April 2018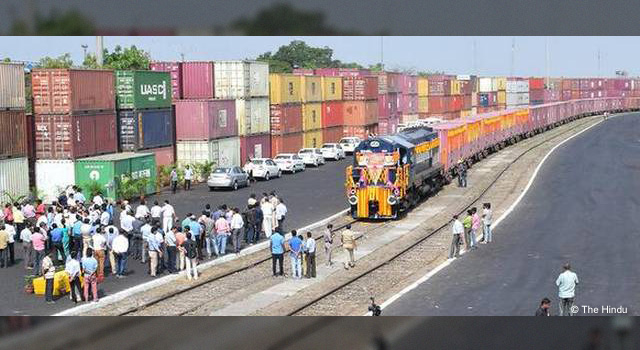 India led a test run of the first container freight train from Kolkata, India, to Dhaka, Bangladesh, on 3-4 April 2018. It was loaded with more than 1,100 tonnes of animal feed. It traveled 300 kilometers from Majerhat station in Kolkata through Sealdah, Naihati, Ranaghat, and Gede in India, and Darsana and Ishwardi in Bangladesh, on the way to Bangabandhu West station, 117 kilometers from Dhaka.
The container train service will reduce cost and transport time, and thereby improve trade between India and Bangladesh. The service allows for goods to be transferred between Kolkata and Dhaka in one to two days. In comparison, trucks bearing goods between the two countries take an average of one month to reach their destination.
The container train service will ease pressure on the Petrapole-Benapole border gates, through which trade in road cargo pass, and on Chittagong Port on the coast of the Bay of Bengal. Shipping ministries of the two countries are also keen to tap the Port of Dhaka's Pangaon river terminal.
Container trains are suited for ferrying machine parts, chemicals, automobiles, and consumer durables.
This will be the first container rail service between India and Bangladesh. It will add to the service already provided by passenger and goods trains. The Container Corporation of India Limited and Container Company of Bangladesh Limited signed a memorandum of understanding in April 2017 to start the service.
Bangladesh is India's largest trading partner in South Asia and ninth largest export market.
Related Links: