Bilateral Talk Held by Nepal Minister of Foreign Affairs and People's Republic of China State Councilor and Minister of Foreign Affairs
18 April 2018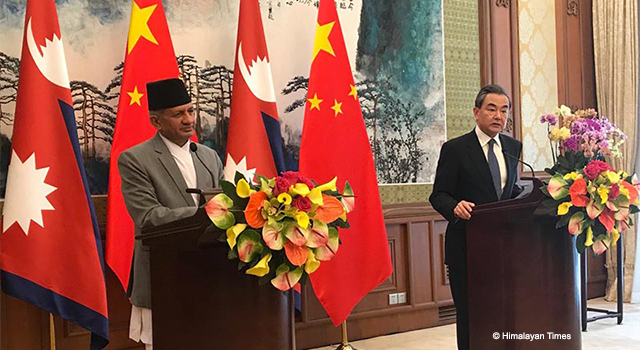 Mr. Pradeep Kumar Gyawali, Minister of Foreign Affairs, Government of Nepal, and Mr. Wang Yi, State Councilor and Minister of Foreign Affairs, People's Republic of China (PRC), held official bilateral talks on 18 April 2018. Mr. Gyawali was an official visit to the PRC on 17-21 April 2018, upon the invitation of Mr. Yi.
The Meeting discussed
Speedy implementation of all agreements and understandings, including those concluded during the visit of Prime Minister K.P. Sharma Oli in March 2016 and former Prime Minister Pushpa Kamal Dahal 'Prachanda' in March 2017;
The importance of developing cross-border multi-dimensional transport networks for better connectivity and shared prosperity;
Establishment of a coordination and implementation mechanism to assist in the effective implementation of projects in Nepal supported by PRC. The Foreign Ministers emphasized enhancing bilateral cooperation between the two governments in the development of infrastructure, transportation networks, trade, tourism and people-to-people relations under the Belt and Road Initiative, and agreed to identify projects for cooperation under the Initiative;
Feasibility study and preparation of detailed project report for the Nepal-PRC Cross Border Railway line from Keyrong to Kathmandu, and from Kathmandu to Pokhara and Lumbini. They agreed to convene a meeting on bilateral mechanisms at the earliest possible time. Consultations to finalize the instruments under negotiations will also continue.
Need for more cross-border routes and upgrading of the facilities in the Rasuwagadhi/Keyrong and Tatopani/Zhangmu Ports, as well as the possibility of re-opening the Tatopani port earlier.
Reduction of the widening trade gap between the two countries by boosting Nepal's exports to PRC. State Councilor and Minister for Foreign Affairs Yi assured his counterpart that PRC will provide better market access and encouraged Nepal to maximize opportunities through PRC's opening-up policies and reforms.
Both Ministers lauded the excellent state of bilateral affairs, and vowed to elevate these relations to new heights. They acknowledged the importance of regular exchange of high-level visits in deepening the trust and friendship between the two nations. The Foreign Minister of Nepal also conveyed his country's appreciation for PRC's neighborhood policy.
Mr. Gyawali also called on the Vice-President of the PRC Wang Qishan. He expressed greetings and best wishes from the Prime Minister of the Government of Nepal K.P. Sharma Oli. He reiterated Nepal's appreciation for President Xi Jinping's vision of 'building a community of shared future for humanity,' and support for PRC's aim to enhance cooperation among nations under the Belt and Road Initiative.
Related Link:
Press Release on the ongoing visit of Minister for Foreign Affairs of Nepal to China