AmCham in Bangladesh Briefed on SASEC and Regional Cooperation
29 June 2014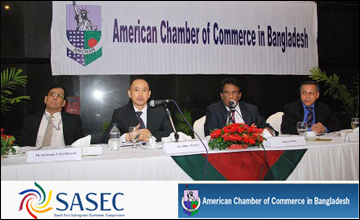 The American Chamber of Commerce (AmCham) in Bangladesh was briefed by Mr. Kazuhiko Higuchi, the Asian Development Bank (ADB) Country Director for Bangladesh, and chief guest at AmCham's monthly meeting on 26 June 2014. Speaking on the topic 'Building Infrastructure through Regional Integration and Cooperation: Role of ADB', Mr. Higuchi introduced the SASEC Program as a vehicle to finance key infrastructure projects in Bangladesh, including roads, railways, information communication technology (ICT), tourism, and energy. Since 2001, ADB financing of almost $817 million has supported nine projects in Bangladesh in transport, trade facilitation, energy, and ICT.
Related Links:
Daily Star
, "
ADB Focuses on Regional Trade, Cooperation: Country Director
", 27 June 2014.
The Financial Express, "
ADB for Dialogue among S Asian countries for Regional Cooperation: Plea to Remove Trade, Investment Barriers
", 27 June 2014.