BBIN Initiative for Boosting Bus Service in the Subregion; Sets Dhaka-Kathmandu Trial Run
29 March 2018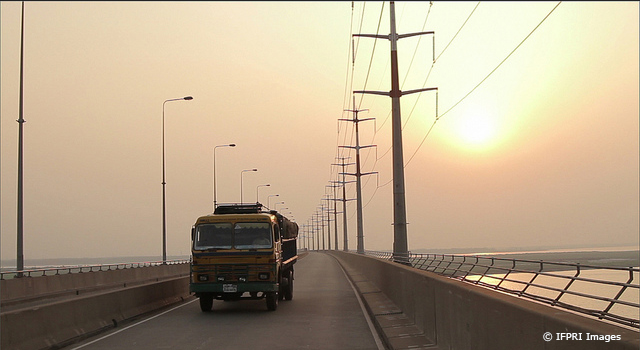 Selected commercial and personal vehicles, including a passenger bus service, will join a trial run from Dhaka, Bangladesh to Kathmandu, Nepal on 23-26 April 2018. The route, an alternative to Bangladesh-Nepal air travel, will pass through the Banglabandha (Bangladesh)-Phulbari (India) border and through Panitanki (India)-Kakarbhitta (Nepal) border. Officials of the Governments of Bangladesh, India, and Nepal agreed on the timetable for the test run during a Bangladesh-Bhutan-India-Nepal (BBIN) Motor Vehicle Agreement (MVA) video conference on 27 March 2018.
Mr. Chandan Kumar Dey, Joint Secretary of the Government of Bangladesh's Road Transport and Highways Division, Ministry of Road Transport and Bridges, shared that officials from the governments joining the trial run will board a passenger bus.
Senior officials of the governments of Bangladesh, India, and Nepal have agreed to operate more cargo and passenger buses along key routes in the region to enhance connectivity. In addition to the Dhaka to Kathmandu route, other proposed passenger bus services include (i) Guwahati to Kolkata route via Shillong, Dawki, Dhaka, Benapole, and Petrapole, and (ii) Chittagong to Silliguri route via Dhaka and Burimari.
They are also planning to introduce passenger and cargo bus services along the Dhaka-Kathmandu, Dhaka-Durgapur, and Chittagong-Kolkata routes.
The BBIN MVA, signed on 15 June 2015, is a landmark framework agreement that will allow a seamless flow of passenger, personal, and cargo vehicular traffic in the BBIN subregion. It promises to increase trade and people-to-people connectivity. The Asian Development Bank is providing technical and financial assistance to the BBIN initiative.
Related Links: