6th SAARC Business Leaders' Conclave Notes the Need to Prioritize the Economic Agenda
18 March 2018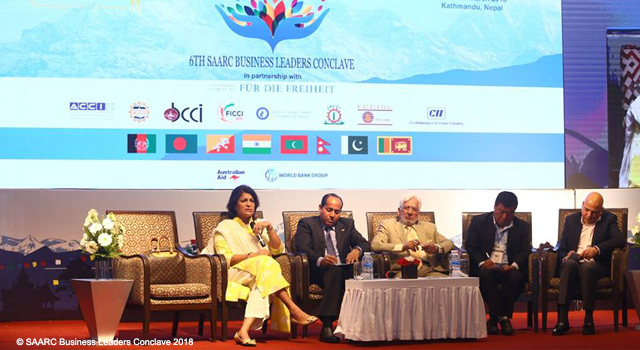 The 6th SAARC Business Leaders' Conclave held in Kathmandu, Nepal on 16-18 March 2018 stressed the importance of prioritizing the economic agenda in the South Asian Association for Regional Cooperation (SAARC) region. This 3-day gathering provided a platform for public and private stakeholders to discuss, debate, and create solutions and opportunities to take South Asia on the path of shared prosperity. It raised a host of issues, and emphasized that SAARC member nations must strengthen connectivity and trade in the region to achieve the goal of shared economic prosperity.
Mr. Shekhar Golcha, Senior Vice President, Federation of Nepalese Chambers of Commerce and Industry, underscored the need to make the economic agenda the guiding force among relationships within SAARC.
Speaking on intra-regional trade, Mr. Ugen Tsechup Dorji, Former SAARC CII Bhutan President, noted the contrast between the large SAARC population and the below-5% global trade happening in the region. According to him, SAARC must improve connectivity, integration, and infrastructure to boost growth.
Mr. Phub Tshering, Secretary General, Bhutan Chamber of Commerce and Industry, urged SAARC nations to come together to beat the challenges the region is facing.
Ms. Shobana Kamineni, President, Confederation of Indian Industry, stressed the potential of the SAARC labor force. The SAARC region has the youngest people in the world—around 60% of the Indian population is comprised by people under 35 years old—and to give jobs to millions and millions of people is the most fundamental thing that the industry and governments must understand. It is imperative for people to stay healthy and eligible for jobs, she noted.
Related links: