Bangladesh, Thailand Discuss Bilateral Cooperation in Shipping, Trade, and Energy
15 March 2018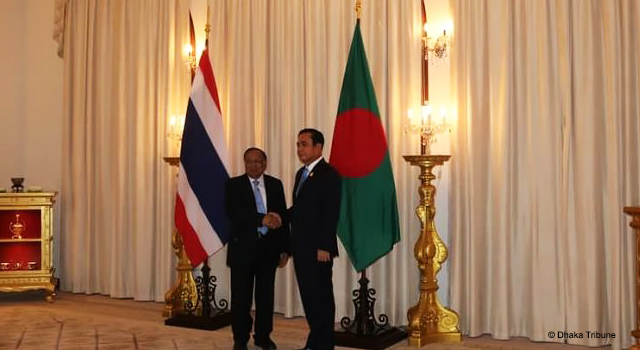 Bangladesh's 'Look East Policy' and Thailand's 'Look West Policy' could be synchronized to create new trade and economic connectivity corridors, according to Thailand Prime Minister Prayut Chan-o-chaon during a meeting with Bangladesh Foreign Minister AH Mahmood Ali. The Bangladesh Foreign Minister visited Thailand for two days to inaugurate the Bangabandhu Chair at the Asian Institute of Technology. He held a meeting with the Thai Prime Minister to discuss a range of bilateral cooperation, including shipping, trade, energy, and those under the Bay of Bengal Initiative for Multi-Sectoral Technical and Economic Cooperation (BIMSTEC).
The Meeting between the Thai Prime Minister and the Bangladesh Foreign Minister highlighted:
Potential of Bangladesh to become a "gateway and connectivity hub" between South Asia and Southeast Asia;
Proposal by Thailand to establish coastal shipping connectivity between Ranong Port in Thailand and Chittagong Port in Bangladesh;
33% growth in bilateral trade between the two nations in 2017. They aim to double this trade figure by 2021;
An offer by Bangladesh to create a dedicated economic zone for Thai investors, and pledge to extend all-out support. Mr. Ali urged Thai investment in
An offer by the Government of Thailand to work on a framework memorandum of understanding in the energy sector with the Government of Bangladesh;
Boosting cooperation under the BIMSTEC framework. Foreign Minister Ali reiterated Bangladesh's request for duty-free and quota-free access for 36 products from Bangladesh; and
Thailand's support for Bangladesh's bid for membership in the Mekong-Ganga Cooperation Forum and the ASEAN Sectoral Partnership.
Foreign Minister Ali thanked Thai Prime Minister Chan-o-chaon for his pledges, and reassured him of Bangladesh Prime Minister Sheikh Hasina's full support in taking Bangladesh-Thailand cooperation on trade, economy, and connectivity to the next level.
Related Links: