India Keen to Tap Pangaon River Terminal for Trade with Bangladesh
18 March 2018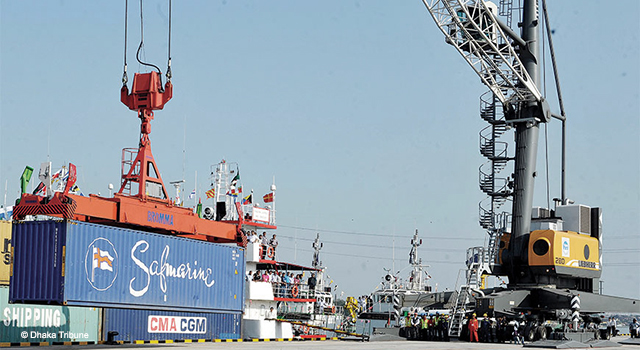 The Ministry of Shipping of the Government of India will propose to add the Pangaon river terminal into the India-Bangladesh protocol for inland water trade at the upcoming secretary-level talks between the two countries. Located 20 kilometers away from Dhaka, Bangladesh, the Pangaon container terminal can provide a cost-effective means to transport goods between Kolkata and Dhaka. Mr. Gopal Krishna, Secretary, Ministry of Shipping, expects the proposal to receive support from the Government of Bangladesh.
Prevalence of non-containerized road cargo mainly through the Petrapole-Benapole border, and lack of uniformity in axel-load restrictions contributes to high costs of Bangladesh-India trade. Containerizing and shifting road cargo to less costly rail and inland river transport can boost trade between the two countries.
Inland water transit attracts a high volume of domestic freight in Bangladesh due to its low cost. Terminals currently included in the protocol are the Kolkata port in West Bengal, India; Mongla, Narayanganj, Ashugunj ports in Bangladesh; and Karimgunj in Assam, India.
Mr. Krishna was in Kolkata, India to flag off two tug-barge flotillas, which will help carry fly ash to Bangladesh for landfills. He also surveyed progress of the Jal Marg Vikas Project (JMVP), financed by the World Bank, which will enable commercial navigation of vessels with capacity of 1,500-2,000 tons on the 1,620 kilometere National Waterway-1 on the Ganga river. This runs from Varanasi to Haldia, with links to Bangladesh. Full completion of this waterway is expected by March 2023.
Related Links: