Paperless Trade Proposed for Facilitation of Nepal Trade via Vizag Port
20 February 2018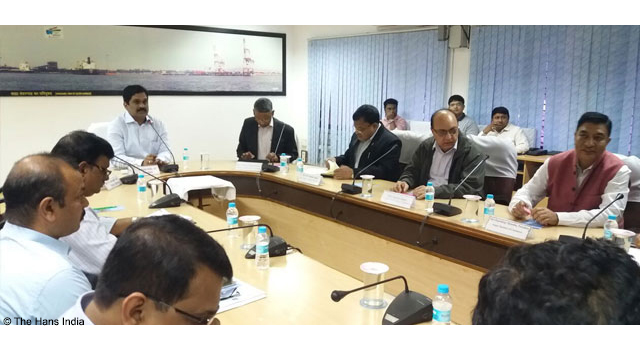 A meeting between the Government of Nepal's Ministry of Commerce (MoC), Ministry of Foreign Affairs (MoFA), Visakhapatnam (Vizag) port authorities, and the Government of India discussed the possibility of implementing paperless trade procedures at Vizag port to facilitate Nepal's third country trade. In follow up to this, the Government of Nepal also held a meeting with its stakeholders on 18 February 2018.
Digitizing trade processes will help ease Nepal's trade conducted through Vizag port, promote cargo movement, and reinforce trading accountability.
Mr. Rabi Shankar Sainju, Joint Secretary, MoC, noted that stakeholders received digitization of Vizag port positively. He also shared that the MOC and Vizag port authorities have started groundwork to digitize trading, but more preparations are needed to execute the plan.
On 10 February 2018, a delegation headed by Mr. Chandra Kumar Ghimire, Secretary, Nepal Moc with members consisting of Mr. Sainju; and Mr. Rajeshkaji Shrestha, Director General, Nepal Department of Customs and President, Nepal Chamber of Commerce visited the Vizag Port Trust (VPT). They met with Mr. Movva Tirumala Krishna Babu Chairman, VPT, and representatives of PPP operators, Container Corporation of India Ltd.(CONCOR), stevedore agencies and container lines.
VPT briefed the Nepalese delegation on infrastructure and facilities available for cargo freight to Nepal. Issues concerning setting up of office in Vizag, reduction of cost through logistics, availability of rakes, documentation, security, customs clearances and import duty by customs for dry bulk cargo were discussed.
Mr. Ghimire acknowledged the warm hospitality extended to them by VPT, and emphasized that cooperation and coordination between Nepal and India would encourage trade between the two countries.
Related Links: