Nepali Ginger Traders Tap Bangladeshi Market
1 February 2018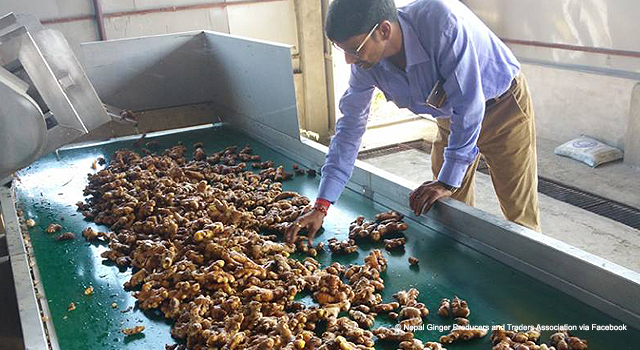 Exporters from Nepal shipped over 35 truckloads of ginger to Bangladesh between mid-December 2017 to January 2018, with 15 more trucks awaiting transit, via the Kakarbhitta (Nepal) - Panitanki (India) - Phulbari (India) - Banglabandha (Bangladesh) route. This volume of ginger traded by Nepal to Bangladesh is the largest it has exported to a third country in over a decade.
Bangladesh is Nepal's 11th top export destination for fiscal year 2016-2017 and 2017-2018. At a recent talk in Kakarbhitta, Mr. Choplal Bhusal, Ambassador of Nepal to Bangladesh, highlighted that Bangladesh is a potential market for Nepal's agricultural produce.
Bangladesh considers ginger from Nepal of high quality, according to Mr. Narendra Kumar Khadka, President, Province 1 Chapter of the Federation of Nepalese Chambers of Commerce and Industry. Aside from Nepal, the country also imports ginger from other countries, including People's Republic of China, India, Myanmar, and Sri Lanka. Mr. Khadka is urging the Government of Nepal to take diplomatic initiatives for trade facilitation with Bangladesh to increase the volume of ginger export and reduce high transit cost to maximize this trade opportunity.
Mr. Tom Rajbanshi, Chairperson, Nepal Ginger Producers and Traders Association, shared that while demand for ginger in India remains larger, entry of Nepal ginger producers to the Bangladeshi market is a milestone achievement.
The Treaty of Transit between India and Nepal that came into force in 1960 facilitates movement of Nepal's third country trade with and through Bangladesh. The border customs office Phulbari, along with Radhikapur, is authorized by the Kolkata Customs to process customs transit declarations and other documents.
Related Links: