Bhutan, India Mark 50 Years of Bilateral Ties
21 February 2018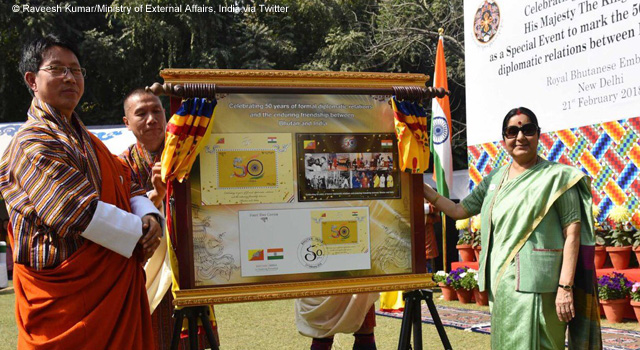 The 50th anniversary of diplomatic ties between Bhutan and India is an occasion to reflect on further advancing ties between the two countries, said Ms. Sushma Swaraj, Minister of External Affairs, India.
"The year 2018 is a milestone moment for India-Bhutan partnership as we celebrate the accomplishments of the last five decades of our time-tested and special ties," said Ms. Swaraj to mark the occasion on 21 February 2018 in New Delhi, India. "It is also an opportunity for us to reflect on how well we could advance this unique partnership to respond to hopes and aspirations of our two peoples for our common prosperity and a better future."
Mr. Lyonpo Damcho Dorji, Foreign Minister, Bhutan, also attended the celebrations.
Bhutan and India cooperate in the fields of transport, hydroelectric power, and trade, with India being Bhutan's largest trading partner. Bilateral trade between the two stood at INR 8723 crore ($1.34 billion) in 2016.
Bhutan hosts three hydroelectric projects built by India, with a total capacity of 1,416 megawatts. Bhutan uses one-fourth of that power while the surplus power is exported to India.
Ms. Swaraj also welcomed the recent inauguration of Bhutan's first consulate general's office in the Indian state of Assam.
Related Link: